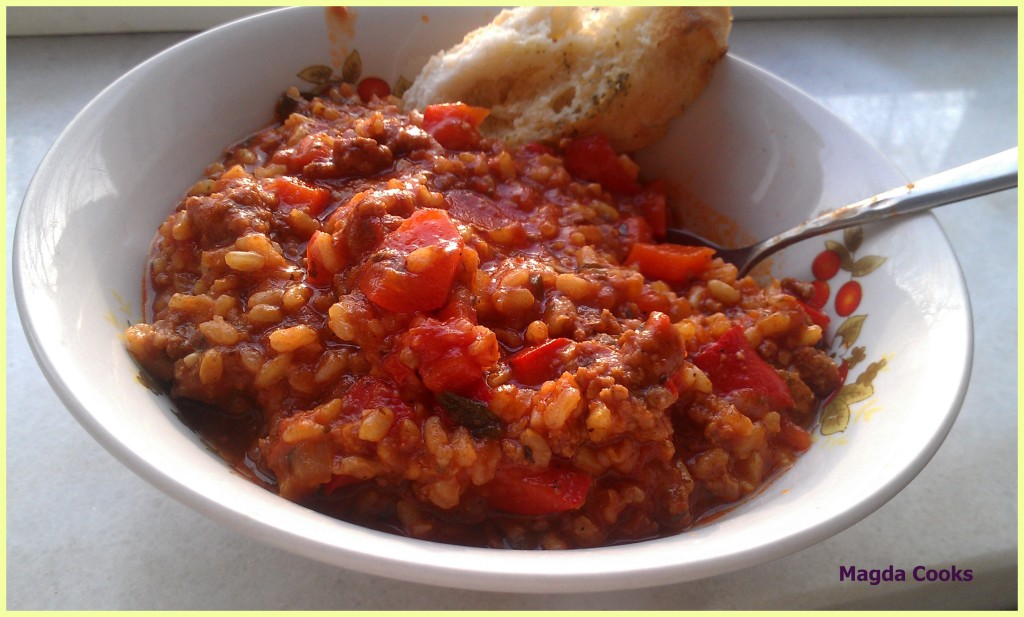 When Cookies made this dish for me the first time I was like wtf? Stuffed peppers I understand but as a soup? How the hell is he doing it to make it a soup? Then he served it and I found my second, okay third favourite soup. For most of you it would be probably one pot meal not a soup cos it's very thick and filling but oh well, it's considered a soup 0_o.
I know it's the middle of the summer and this kind of food is good more for cold fall/winter dinners but I thoroughly enjoy it and decided the weather doesn't matter :-). And you can't overplay the fact, that it's the only meal that the brown rice in it, is actually edible 0_o

Stuffed Pepper Soup
Prep Time: 15 minutes
Cook time: 20-25 minutes
Yield:

5-6
Ingredients:
Instructions:
Cook rice for only half the time that is on the package, set aside.
Heat up oil in the pot with double bottom or non-stick surface, saute for a minute, add diced peppers and continue sauteing for another minute or two. Add crumbled meat, stir and keep browning. When the meat is half done add the half cooked rice and stir good. When the meat is ready add tomatoes along with the concentrate and your spices. Mostly 1/2 teaspoon is enough, except salt and pepper which add to your taste. Let it cook 10-15 minutes until the rice is completely cooked through. If the soup is too thick (which we like the most) add 1/2 glass beef bouillon or just plain water (if you intend to add the bouillon, be careful with the salt added earlier!) to make it slightly more liquidity.
Serve it sprinkled with coarsely chopped parsley. With these measurements you get 5-6 okay sized portions, 3-4 decent ones or 2 if you like to eat 0_o . Goes great also with a garlic and herb seasoned bun.
Until next time, take care of yourself and each other 0_o
P.S. Cookies thoughts: I got this from an old restaurant that I used to go to a lot in the past. I did it a few times, and then Magda tried to do it. And she did outstanding, because, Magda Cooks... it just right!