Since I got my halogen oven I wanted to bake a DUCK. Yes, big, fat duck I remember my Mom was making it occasionally stuffed with apples and served with red cabbage salad. Actually my first memory about baked duck comes from early childhood – I think I was what 6? My Dad took me to the extended family farm and I tasted duck there.
So, when one of the popular food chains had a good offer for fresh duck I battled with Cookies about making it for a nice Sunday dinner. He was kicking and screaming (as usual I may add) but he had to give up, when I showed him my two best attributes… So to make sure that I would bake it absolutely perfect, I first called Mom 😉 then I browsed the internet to know what I'm doing. Don't get me wrong, I know how to bake, but with it I didn't want to take chance I screw up something. 0_o
This recipe is the result of what I like and what works good with duck. In the end of the process you will have a gorgeous, aromatic duck with plenty of duck grease in the bottom of the pan or halogen oven bowl. Don't toss it, pour it into a bowl and keep it covered in the fridge to use for frying pork chops… there is nothing better than pork chops fried in duck grease. For some reason it gives the meat an extra kick.

Baked Duck Magdas Style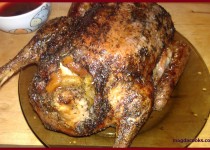 Prep Time: 20 minutes
Cook time: 02h 00min
Yield:

6
Ingredients:
Instructions:
Clean the duck, check if any feathers are stuck anywhere. Pat dry. In a small jar or anything else you wish to use mix all spices. Rub the duck with it inside out and set aside for at least 30min. In the meantime peel apples and put apricots into hot water for 1-2 minutes though if you have nice freshly dried apricots you don't have to do it. Stuff apples and apricots into ducks belly, try to close the hole with small skewers.
Bake at 190C/375F for about 2h. Check how the baking goes, you don't want to burn it, do you? If you use halogen oven, flip it to bake it nicely on both sides (about half way or 1h).
Serve hot with cranberry sauce or nothing else ;-) with simple salad and side dish of your liking. I think baked duck is my favourite meat.
That should be your end result...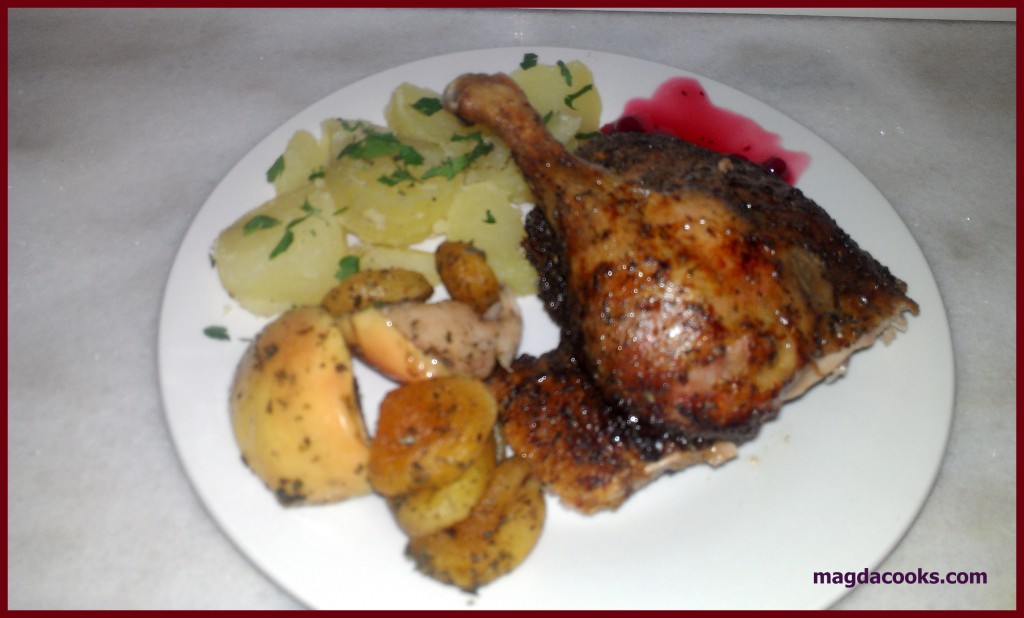 Until next time take care of yourself and each other 0_o
P.S. Cookies thoughts: I enjoyed it. I am generally not a fan of "dark meat" poultry, and wasn't to "game", but the end result made me change my mind. It was that tasty… so therefore Magda Cooks… it just right (and so will you!).