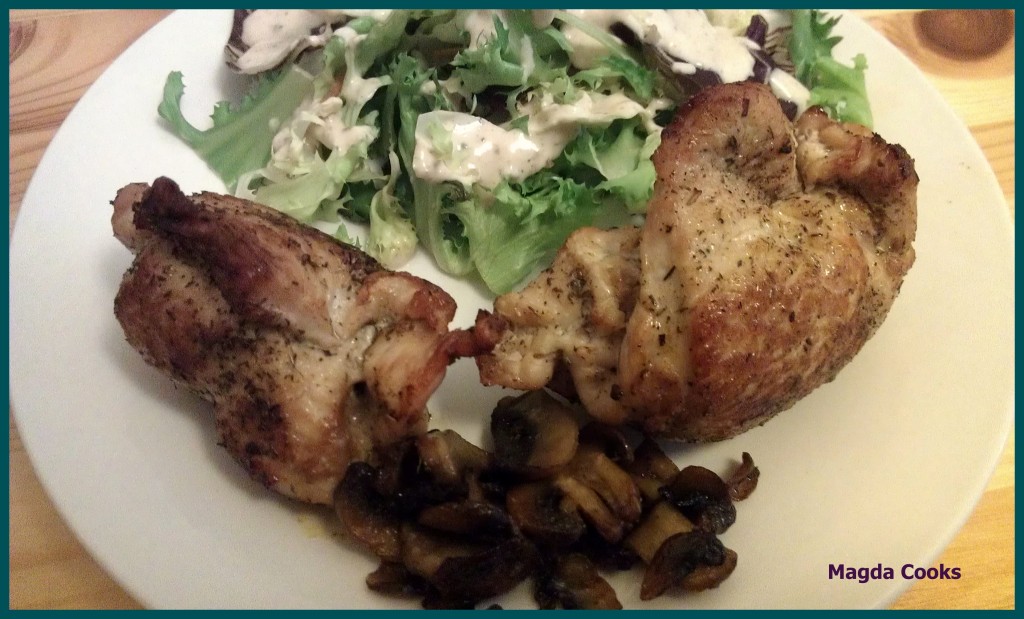 I believe I've mentioned a couple times how much I like stuffing meat… Today I wanted to share with you recipe that has neverending possibility to evolve in texture and flavour. And it was my first stuffed meat dish I prepared out of sheer boredom of eating cutlets and meatballs with the Mullen Household Salad 0_o.
Definitely it was Sunday, cos the meal needs some work, and I don't work hard on meals on workdays, I simply don't feel like it 0_o I had a slab of turkey breast and really didn't have a freaking clue what to do… Almost started crying on the thought of another cutlet/schnitzel meal.
I was trying to figure out what to make, took a bottle of wine out and thought if it won't help at least I can get drunk 0_o But actually in the middle of the first glass I got enlightened… I started reminiscencing about past meals my Mom and Granny cooked for us… I remembered Granny's pork rolls stuffed with bacon and sour cucumber and thought why not stuff my turkey with something. Weeee, even found small spits to make sure the rolls won't fall apart.
But now what to stuff it with hmmmz thats a tough question… I rummaged the fridge and come out with mushrooms and cheese, weeeee we will have mushroom and cheese stuffed turkey rolls 😉

Stuffed Turkey Rolls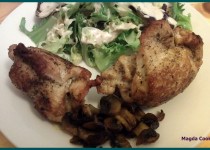 Prep Time: 20-30 minutes
Cook time: 15 minutes
Yield:

2
Ingredients:
Instructions:
Clean the mushrooms with paper towel (washing with water makes them rubbery). Take 6-10 mushrooms and dice it good. Heat pan with ghee and fry mushrooms until nicely browned. The rest of the mushrooms slice and fry until browned and crunchy.
Preheat your oven to 180C or 350F.
Beat the living crap out of the cutlets, making them as big as possible without making holes. Sprinkle with salt and pepper and any spice you like. Sometimes I use thyme or just turkey mix from the store. Place a slice of cheese on the cutlet and add good amount of diced, fried mushrooms. Roll carefully and clip with your spits, 3 is usually enough to make sure nothing will fall out.
If you finished with mushrooms, use this pan with more ghee for something that professionals call closing the meat. Brown it fast on high heat from every side for short period of time and place the pan or skillet in the oven, Pour 2-3 tbsp of water and bake for at least 15 minutes. If you can, sprinkle the meat with the juices, the food will be more tender and juicier.
I mentioned that this meal has neverending possibility to evolve, and it is. You can use different meat, different stuffing etc. The previous one I made with mozzarella and pineapple chunks with pineapple juice as a moisturizer. You can use ricotta and spinach as Cookies once did and that was the first and the last time I ate cooked spinach 0_o not that it was bad, not at all, just I simply don't like cooked spinach. So feel free to create your own version of stuffed rolls ;-) with any ingredients you like.
This time I served it with side of fried mushrooms and simple lettuce mix with creamy sour dressing I like very much. (Cookies got tomatoes, since he is not a f... rabbit - his own words 0_o)
Until next time, take care of yourself and each other 0_o.
P.S. Cookies thoughts: At least it wasn't cucumbers with yogurt :) (about the Tomatoes line!) I enjoyed it, and honestly she can stuff MEAT good. O_o don't have a clue what that means, BUT, Magda Cooks... it just right, (I know what that MEANS!) :)