Magda's Way Beef Stew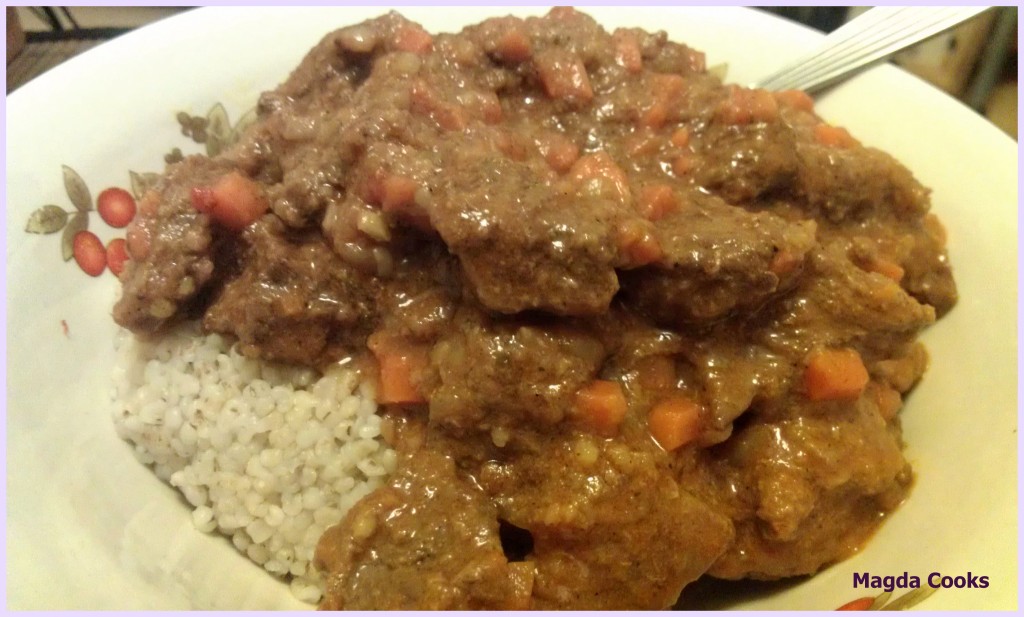 As time progresses we are taught different things by our parents. It happens that certain stuff is the domain of Moms, and the others are of Dads 😉 And in my case it was the same, my Mom taught me how to cook and Dad taught me how to pitch a tent, put a worm on the hook, then how to clean a fish. I still call my Mom anytime I need advice though our cooking styles are completely different. But there is one exception – my Dad taught me how to cook perfect beef stew. He doesn't cook much but what he makes is extraordinary. Cookies still loves Dads style fish a'la greek 😉
With the beef stew I was put on the spot when I was about 17? Because I went with Dad and the Uncle to the Uncle's house in the Masurian Lakes. I was the only one at the time to be able to cook – since guys was working hard on cleaning the terrain of the property from leftovers of previous owner, who liked to stash broken stuff in the ground 0_o. They were also building outside stuff, like a small pier on the lake or table and sitting benches outside.
I just got informed I'm cooking beef stew and was introduced to 1,5 kg of beef ½ kg of white onions and had to create a dinner for 5 hard working men and myself… You can imagine I was kind of freaked out… At the time I could make pork chops and certain soups, meatballs with potatoes and a salad… But I didn't know crap about beef or beef stews at all. So I ran to my Dad and with his guidance I made perfect stew and fed the men really good. I still remember the pride I felt when I served the dish, and got appreciation noises… I think that was the first time I started thinking the cooking is my favourite thing to do and I want to cook more!
My version of beef stew evolved over the years, as I ate different dishes, and I think my own is the closest to hungarian Seged Gulas – which is prepared with root veggies. I modified it to our liking and I would like to share this filling recipe with all of you on Magda Cooks.
---