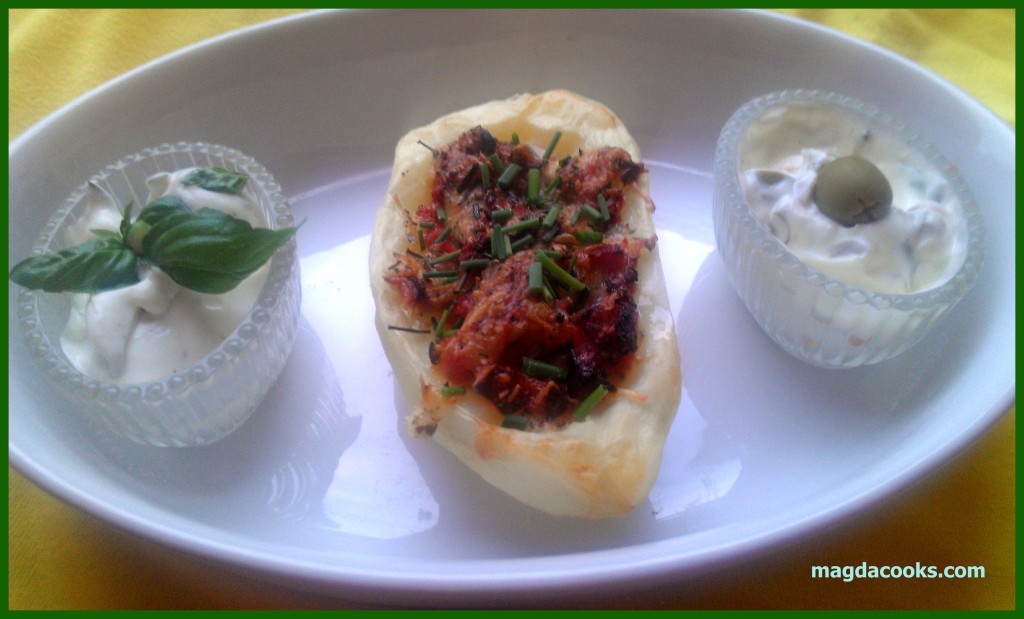 I've had so many things to do lately that I really didn't even have time to explore my favorite world of food. But since I have my time off I could slow down and think what I want to make today. My inspiration comes from Cookies this time, because he mentioned lately he would like traditional baked potatoes, but I know I made it once with salmon, soooooo I started thinking. What goes good with pots? BACON! What goes good with pots and bacon? CHEESE!! Add a couple other yummy ingredients and you have a winner dinner.
Actually its very easy, just the pots were hard and hollowing with a teaspoon was a little annoying 0_o I believe I need another tool for that… (or someone else, maybe named COOKIES???!!!)

Pots with Bacon and Cheese
Prep Time: 15 minutes
Cook time: 20-25 minutes
Yield:

3
Ingredients:
Instructions:
Start from peeling potatoes, cut along and hollow the middle, to create boat-like potato bowl. You should get 2 from each potato.
Heat water in the pot, salt it and put pots into boiling water for exactly 8min. In the meantime dice bacon and shred cheese. Put both into bowl, add 2 egg yolks, oregano, and thyme. Spice with salt and pepper. When the pots are done, take them out, fill the holes with the mixture and sprinkle with a little bit chives. If the bacon is thin (not much fat), add a tiny bit of garlic butter in the bowl of potato. Smear baking pan with butter and sprinkle with bread crumbs. Heat the oven to 220C and place the baking pan in for 20-25min.
While the pots are baking prepare yogurt splash. Put the yogurt into two separate bowls. To one add chopped basil leaves and to the other diced small olives, then spice both with salt and pepper.
Serve hot sprinkled with additional chives - a very aromatic dish.
Until next time, take care of yourself and each other 0_o
P.S. Homerun, I loved them, and they was REALLY tasty.. this time, like all others, Magda Cooks… (I guess the site should of been called Magda Cooked huh?) it just right.. :)