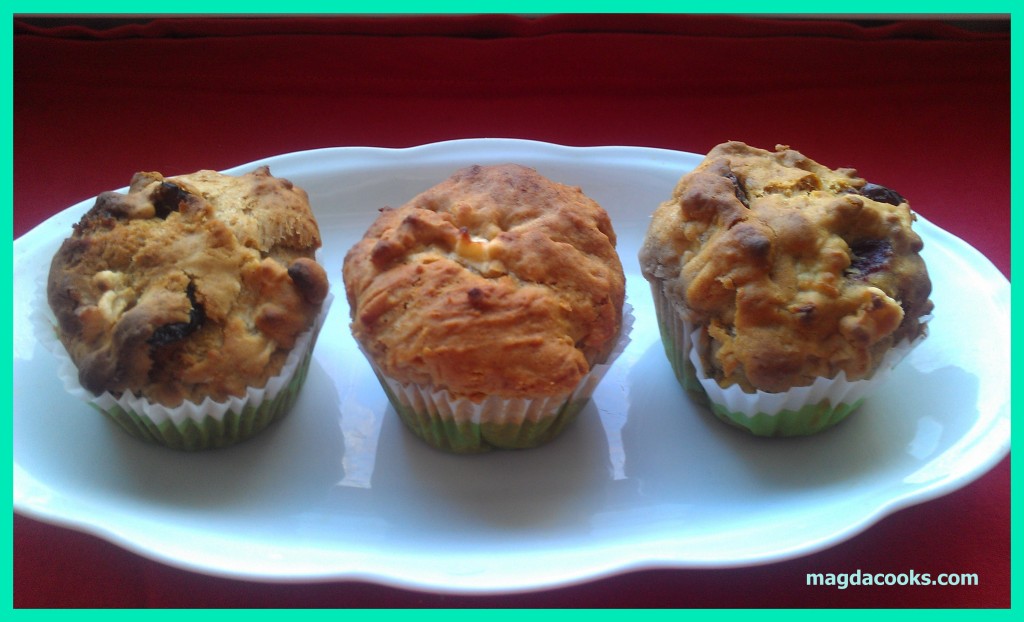 For the past few weeks I was asked numerous times, if I planned to write something for MC anytime soon, and I always answered yes, but I ending up needing some more time. Some sad, and hard things happened in the past few weeks that caused me to not be my usual cheerful self. Cookies and I wasn't in the mood for doing anything and we just focused on being together, and mourning our beloved Kakuniu… We still do.
During those weeks I was so uninspired that I cooked bare necessities and nothing new or fancy. Yesterday, when Cookies went to work I just thought I would like to do something more than browsing through DMA on Chive (funny how much comfort it can provide). I had already dinner prepared, so I thought maybe I'll bake something yummy… so as usual, I started looking at my pantry's shelves and thought I have everything needed for muffins. Wanted chocolate muffins but didn't have chocolate…(didn't want to go buy it either! 0_o) then decided on doing a new version with apples, cranberries and honey.
The end result gave me those soft and gooey vanilla scented muffins that made the wounded spirit cheerful for the whole evening.

Apple Cranberry Muffins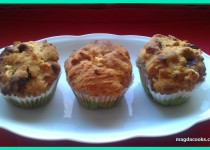 Prep Time: 20 minutes
Cook time: 22 minutes
Yield:

22
Ingredients:
Instructions:
Peel and core apples, dice it to desirable chunks. In the meantime melt butter, cool it then mix it with other liquids along with honey and egg. In separate bowl mix dry ingredients: flour, sugar, baking powder, baking soda, and if you have it, add vanilla sugar. Add wet to dry and stir until batter is combined thoroughly. Add apples and cranberries and stir gently. Don't worry if it has clumps though ;-)
Preheat regular oven to 200C and halogen oven to 175C. I used silicone muffin tins with paper cups brushed with melted butter. Don't forget to do it, this way muffins won't become one with paper ;-) Pour globs of batter into the forms and place into regular oven for 15-20 minutes and 20-22 in halogen oven. Let it cool on the rack and enjoy. This amount produced 22 medium absolutely perfect and delicious muffins ;-)
Until next time, take care of yourself and each other 0_o
P.S. Cookies thoughts: Back to business finally… ate it and enjoyed it… not much else to say! Magda Cooks.. it just right (after the muffins become one with paper the first time around!) :) but hey they was tasty too!