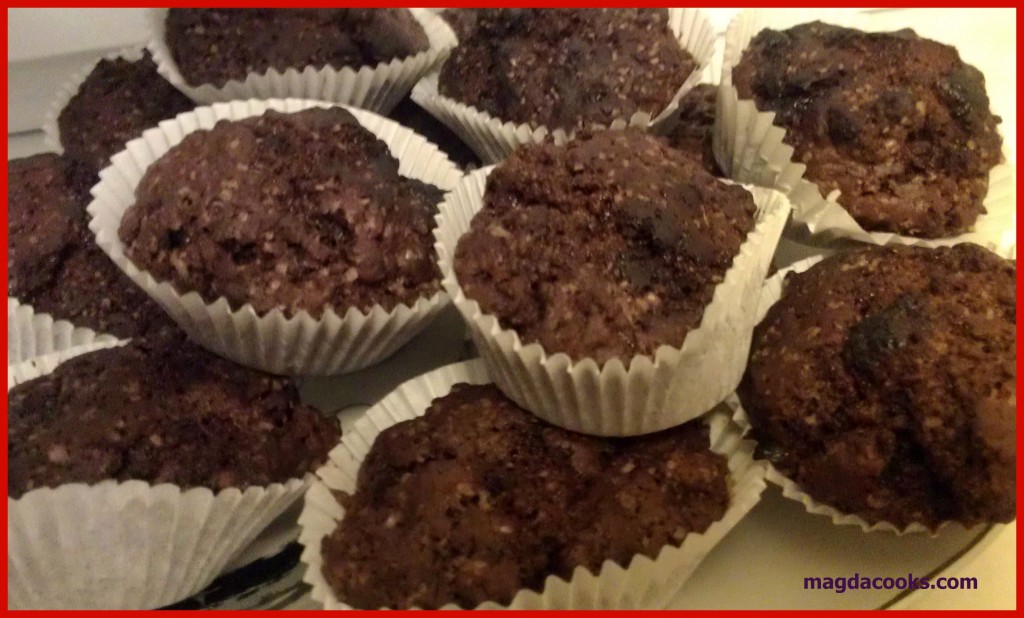 Well, I know I have been neglecting Magda Cooks terribly lately. I didn't feel like moving my pinky. You can say keep calm and stop moaning, but there is time when too many problems overwhelm you and you just lose it. Thankfully I'm optimist by nature and those times never take long. Did my problems get solved? NO! But F… IT 😉 we can have chocolate muffins for this not calm Sunday afternoon! And hell I thought it won't work cos my halogen oven doesn't bake very good, however, except of a little dry top the muffins were stunning 😉 Found this recipe in some old magazine and ripped it for some unknown future day. Today I decided that it is the DAY to try it! Of course I changed it a little bit, cos 2 cups of sugar is a little too much for my taste and they only called for chocolate chips and I added cocoa and ugh, almost couldn't stop myself from eating the batter raw 0_o

Magda's Antidepressant Chocolate Muffins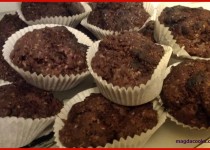 Prep Time: 15 minutes
Cook time: 20 minutes
Yield:

18
Ingredients:
Instructions:
Put milk and bitter chocolate along with butter into a water bath and melt until smooth and glassy, set aside to cool it down. Mix dry ingredients in one bowl: flour, sugar, baking powder, baking soda, cocoa and, if you have it, add vanilla sugar. In another bowl mix wet ingredients: milk, cooled butter/chocolate mix, egg and vanilla extract. Add wet to dry and stir until batter is combined thoroughly. Don't worry if it has clumps though ;-)
Preheat regular oven to 200C and halogen oven to 175C. You can use a muffin tin or just paper muffin cups, just be aware that with only paper cups muffins will be like on the picture ;-) shapeless. Pour globs of batter into it and place into regular oven for 15-20 minutes and 20-22 in halogen oven. Let it cool on the rack and enjoy. This amount produced 18 medium unshaped but absolutely delicious muffins ;-)
Enjoy!
Until next time, take care of yourself and each other 0_o
PS. Cookies thoughts: I am not too big on bakery items, and sweets, but when I smelled the aroma of her newest creation I was tempted to look and see what she was doing, and WOW, these muffins was incredible and HARD to resist and not eat 2 or 3 at once, therefore as I told her, Magda Cooks… it just right!