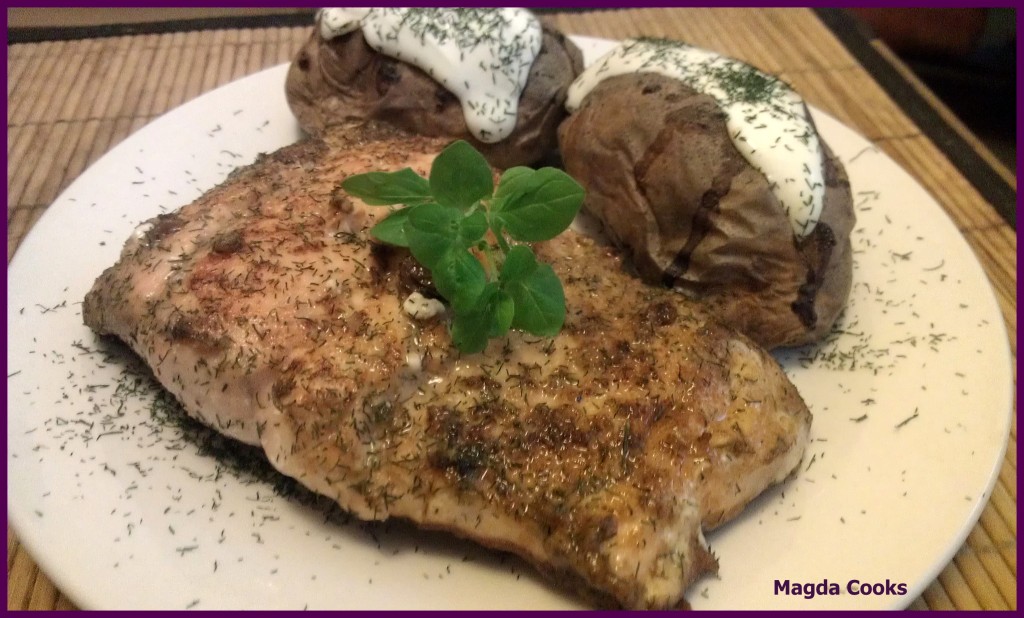 Even if Poland is sea country, we don't have salmons in Baltic sea which makes the price actually little overwhelming. So when I buy it, it's either a special occasion or good promotion in one of my favourite stores 😉 This time it was the special occasion, our 7th wedding anniversary. Yeah, imagine that 0_o and we are both still ALIVE!! not saying sane but nonetheless alive LOL
Actually I didn't have any idea how to prepare my noble fish, as I could do the never boring steamed salmon with broccoli but I thought the special occasion allows me to actually prepare something FRIED!!! Evil, I know 0_o.
Well, since salmon is tasty on it's own I didn't want to exaggerate with spices. Just thought the simplicity is the best in this case, and I used 3 ingredients including the salmon. One of which is the honey and raisins mustard I found lately while scavenging my favorite supermarket…

Honey & Raisins Mustard Marinated Salmon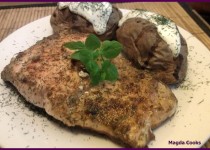 Prep Time: 02h 10min
Cook time: 50 minutes
Yield:

2
Ingredients:
Instructions:
Make sure that salmon is cleaned of scales and fishbones, pat it dry with a paper towel. Prepare flat box, sprinkle fish with salt and smear thoroughly with mustard on both sides. Places box in the fridge for at least 2h. You can also drip a little lemon, but actually I like to do it when I'm served.
When it's time preheat your oven to 180C or 350F, depends in which hemisphere you are existing 0_o. Wash potatoes and pat dry, using a fork stab it repeatedly and place in the oven and bake for 30 to 45 minutes.
When the potatoes are almost ready, heat your non-stick pan, turn the heat down to medium, drip tiny amount of oil and smear thoroughly with kitchen brush. Place salmon skin down and fry until it's brown and crispy, flip it over and continue, until nicely browned and cooked through.
In the meantime take your potatoes out, cut horizontally and squeeze from both ends to inside, so the potato will open creating a crevice, sprinkle with salt and drop good dollop of sour cream or greek yogurt.
Serve salmon with the side of baked potatoes both sprinkled with chopped dill.
And as it happened paraphrasing Jamie Oliver: Mr Salmon likes Ms Mustard ;-)
We enjoyed our Anniversary dinner with nicely chilled white wine
Until next time, take care of yourself and each other 0_o
P.S. Cookies thoughts: I liked Mr. Salmon and Ms. Mustard, a lot, and so will you, if you do it the Magda Cooks way, cause Magda Cooks... it just right!