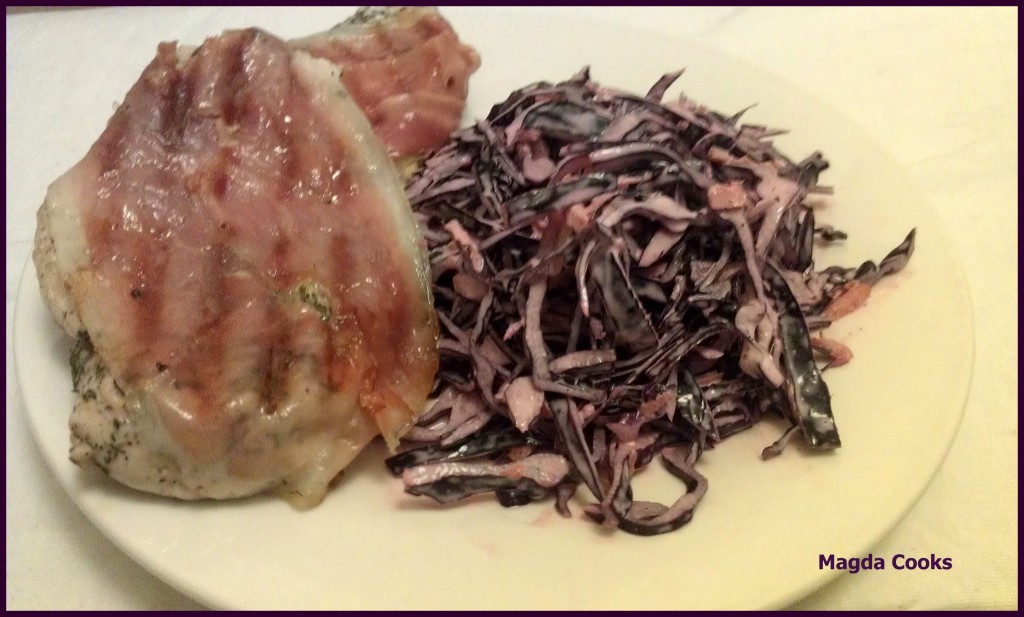 This recipe I got from my co-worker Magda, who sometimes writes for my Friends Recipes section. Her yummy yams still await translation 😉 sorry!!! In my permanent hunt for chix recipes I grab anything that looks/sounds good. This one was especially appealing, cos of the use of prosciutto ham along with thyme and parmesan cheese. As I got the last bit of directions from Magda, I managed to prepare it fast and effectively. It looks very elegant on the plate and I believe it's a very good party dinner material. If you want to impress your MIL or soon to be MIL thats the good dish to do so. Easy, hard to f… up and very, very tasty!

Chix Breast with Prosciutto and Parmesan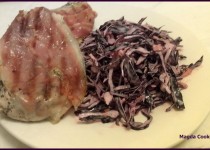 Ingredients:
Instructions:
Beat chix slightly to make it bigger and thinner. Sprinkle on one side with salt and pepper, flip. The other side smear with lemon zest, sprinkle with pepper and thyme. Cover with thick layer of parmesan cheese and wrap around with prosciutto ham, wrapping ends under the fillet.
Sprinkle grill pan with some oil, or you can smear it with a brush. Preheat it good and place chix with the salted part first, Let it grill good until nice dark brown stripes show up. Gently flip it to the ham side and grill further, until it's nicely browned.
Since I baked easy as pie, apple pie today, I served it only with red cabbage salad - no carbs dinner, then a 85% diet dessert! What can be better then that?
I believe you can serve with anything - vinaigrette salad, on rice or potatoes. Just choose what you like!
Until next time, take care of yourself and each other 0_o
P.S. Cookies thoughts: I am not too fond of lemon zest... and I felt like it sort of distracted the taste for me a little bit, but otherwise it was a solid meal, (even if I ate about 43 KGs of cabbage...) THANKS to that "other" Magda, and to Magda Cooks... who, Cooks it just right. (well minus the zest for me).
P.S2. He wouldn't be himself if he didn't bitch!