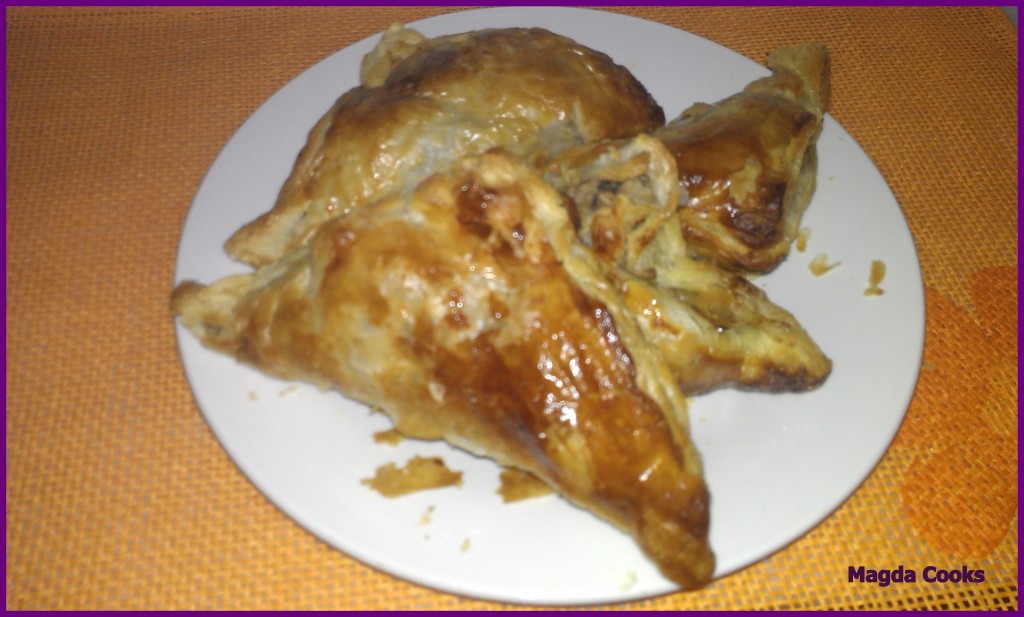 French dough for dinner
Since my Almost Diet Pouches were such a success I thought I could experiment some more with additional fillings and maybe EVEN use it for dinner. I was debating what to use and my choice fell on white mushrooms. It's hard to mess up mushrooms filling 0_o and of course we like mushrooms.
I didn't want to complicate the dish, so there is only 4 base ingredients + spices. Now when I write this post, I'm thinking what else can it be stuffed with… Maybe some chorizo with parsley and zucchini? Or feta cheese with sun dried tomatoes and fresh coriander? Though feta is very strong and has to be mixed with something… it's something to think further.
Since I made it first time for dinner, I made of course a mistake and created pouches too big. Next time I will know better and cut the dough into smaller squares 😉 Make sure you won't put too much stuffing in, cos the pouches will be opening.

Mushrooms Stuffed French Dough
Prep Time: 50 minutes
Cook time: 30 minutes
Yield:

3
Ingredients:
Instructions:
Clean mushrooms with paper towel to make sure there is no soil, cut it up. Mince onion.
Heat big skillet or pan add oil with butter, toss in onion and start frying after a minute add mushrooms and keep stir frying until mushrooms are done to your liking - I like fried good and almost crispy. Make sure you spice it to your liking with salt, pepper, lovage, thyme and coriander. You can also use pre made mushroom spice ;-) no harm done. When ready mix in chopped parsley and let it cool a little.
Cut french dough into squares of your liking again 0_o I'm so accommodating today! Place a good amount of cooled stuffing and create a triangle, make sure to close the pouch good. Smear both sides with beat egg and bake in preheated to 200C oven for 15-20 minutes or until it's mouth-watering brown.
Cookies demanded ketchup when I served 0_o.
Until next time, take care of yourself and each other 0_o
P.S.Cookies thoughts: They hit the spot actually WITH the DEMANDED ketchup of course. Magda Cooks... it just RIGHT!