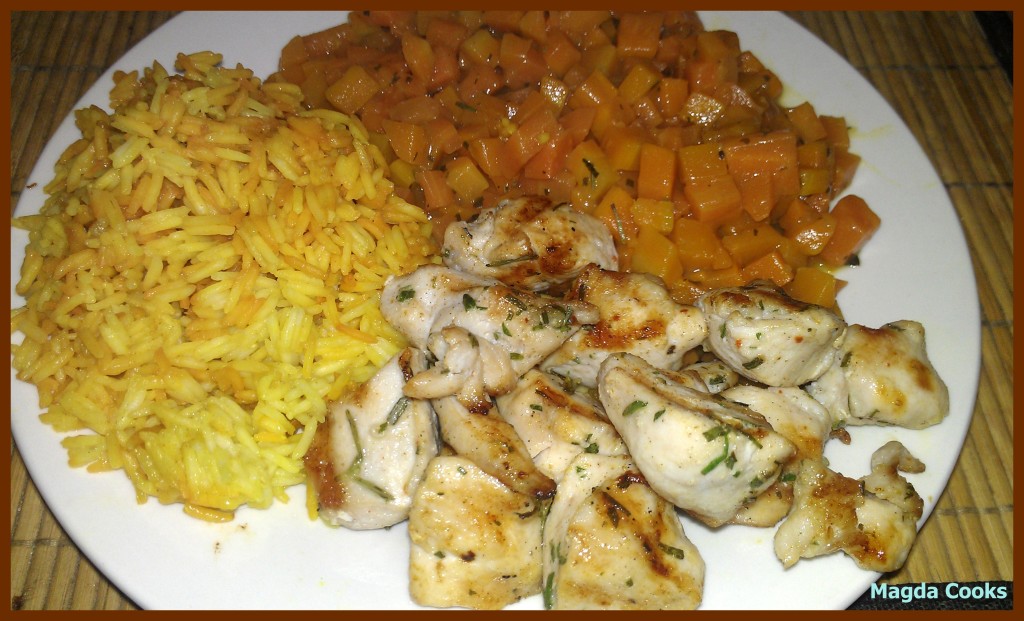 So, I'm on my second week of "vacation" meaning I'm not "working", but leave it to Cookies, he will find 43 billion things to do just at this right moment. Pity, I caught a cold in the end of my first week of "vacation" and have been literally dying since 0_o And imagine that, he (Cookies) is still demanding food 0_o. Today he made sure I will commit to cooking and since noon was annoying me with one question: What are we eating today, Babes? First 30 times I just said I don't know yet, but every next one I was trying to get the worst food that was coming to my head and definitely one he hates the most. Though still didn't know what to make. Then while I was laying under a pretty yellow-orange-beige-brown blanket trying to enjoy my book, I just saw this dinner on the plate. It's all in the colors. Yellow for rice, orange for carrots and a brownish tint for grilled pieces of chicken. Of course it gave me the opportunity to use my AAAAACHEEEW, excuse me 0_o my newly exploding garden on the windowsill 😉 I just freaking love to hover over it with my fuchsia scissors and thinking which one to cut this time… Then through my stuffy nose ripped the delicious smell of fresh rosemary – I prepared my own Chix marinate using the small fragrant leaves.

Chix Breast in Rosemary Marinade
Prep Time: 10 minutes
Cook time: 10 minutes
Yield:

2
Ingredients:
Instructions:
Make sure your chix is dry, cut it into bite size pieces, place in a bowl. Rip leaves from the rosemary sprigs and mince it good, put in a small bowl. Add white pepper, garlic, salt and hot pepper. Pour oil, stir good then cover the chix. Make sure the marinade covers chix thoroughly. Cover and put into the fridge for at least an hour. Heat the grill pan on high and grill until pretty browned.
To make yellow rice ;-) use 1 generous tsp of turmeric in the process of cooking rice. It will add pretty yellow shade to it. Also you can use curry, but that will blank the taste of the meat.
I gave recipe for MsDs Moms Cooked Carrots just here: This time it was only carrots weeee ;-)
And yes, I *STILL/WILL ALWAYS/FOREVER* hate peas!
Another 30min dinner (if you use frozen cut carrots of course 0_o)
Until next time, take care of yourself and each other 0_o
P.S. Cookies thoughts: Damn woman. Snuck that damn grilled CHIX on me... a little unknown fact, when your beloved COOK, gets angry at me she always says: "I will make grilled chix, rice, and house salad" to a usual GROAN from me... well 2 out of 3 this time, but no groan, it was good (and tasty!) even if it was grilled CHIX. :) Magda Cooks... it just right.