I remember when Cookies made this dish first time… it was our 2nd anniversary and he said it will be something special. He didn't let me come to the kitchen and just peek at what are we eating. I only knew it will be chix. I remember hearing him swearing cos sth was burning? or he dropped a spoon? Who knows, why Cookies is swearing when he cooks. There was plenty of noise, oven door etc. Later I got informed that I shouldn't expect this meal too often cos he has only two hands 0_o whatever that means. And of course so much for romantic evening with your husband for two years 0_o. Yeah Cookies is not too romantic, but… he has his moments.
After I ate and said how wonderful it is (didn't lie at all… it really IS wonderful) he told me the name of it: It's Monterrey Chicken. I believe he was regularly eating it in some restaurant during his many trips to work all over US. Actually the recipe for this awesome meal was presented to me not so long ago 😉 since it was secret of the chef 0_o.And I share it with you…

Monterrey Chicken Cookies Way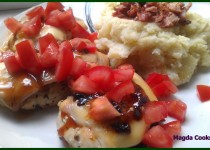 Prep Time: 20 minutes
Cook time: 25 minutes
Yield:

2
Ingredients:
Instructions:
The secret of this meal is in preparation of all the ingredients. Of course it would be awesome to have 4 burner stove 0_o.
Cut each chix breast into two slices, sprinkle with salt, pepper and red pepper, set aside.
Fry bacon on the dry pan until crispy and drain it on paper towels, On the remaining grease fry chix until golden brown on one side then flip it and on the cooked side pour a little bit of BBQ sauce. Fry until the other side is done, then flip it again 0_o and pour more BBQ sauce. PFEWWW!!! Now cover with slice of cheese, put bacon on top and cover yet with another slice of cheese, keep frying until cheese melts. In the meantime of all this madness dice tomatoes. You can take off the skin ;-) but not necessary.
Place chix on the plate and cover with diced tomatoes... got tired from the writing... no wonder he makes this dish only when I'm really angry at him 0_o.
Serve with anything you want, this time it was mashed potatoes (yes he made me mad on something 0_o) but goes good with fries or wedges.
Until next time, take care of yourself and each other 0_o
P.S.Cookies thoughts: No Cookies thoughts, since he cooked it 0_o