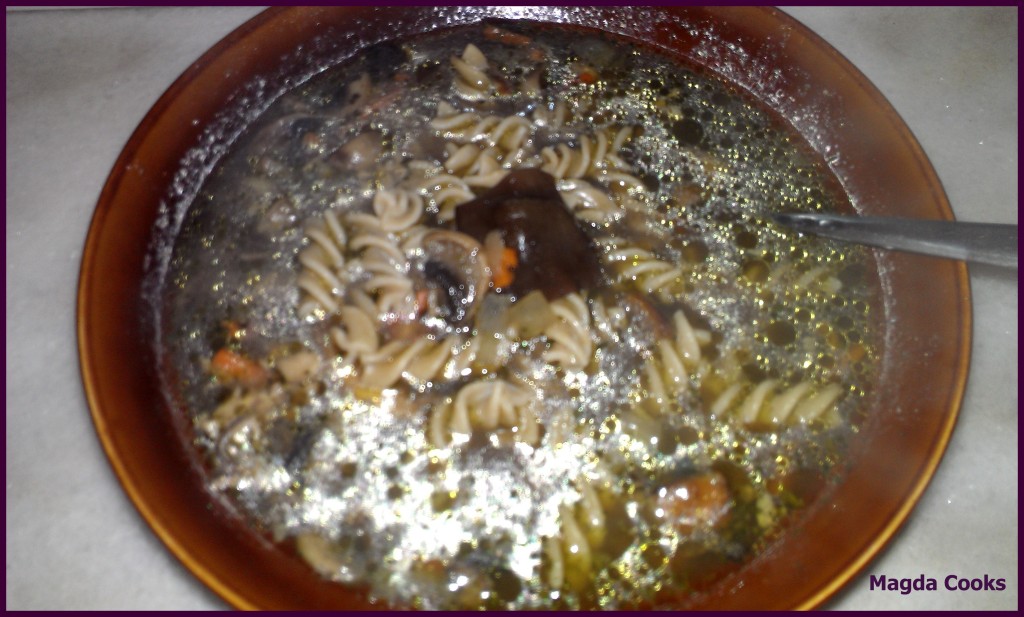 I think I don't have to explain the beneficial influence of various soups – though mushroom soup has additional values because of the unique values of mushrooms themselves.
Mushrooms are a very good source of B vitamins such as niacin and riboflavin and minerals like selenium, copper and potassium. It's low calorie product and in dried form is high with fiber. Can't forget about the strong delicious flavor that can change your meal into a masterpiece.
In the Mullen Household we cook soups together – Cookies makes the base bouillon and I finish when I come back from work usually. With Magdas' Mushroom Soup it is exactly the same. The recipe presents ingredients for 6 big bowls. I won't give the recipe for bouillon cos Cookies did it already in his contribution post for Pickled Cucumbers Soup. Either prepare the base as you always make it or use Cookies advice.

Magdas' Mushroom Soup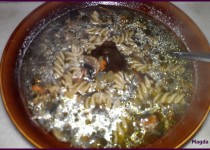 Prep Time: 45 minutes
Cook time: 45 minutes
Yield:

6-8
Ingredients:
Instructions:
Optional: (use these if you want your soup to be more substantial and heavier.) 200g container of sour cream, 2 tbsp all purpose flour.
First Prepare mushrooms: clean with a paper towel from leftover soil and slice. Use small amount of ghee or olive oil and fry on high heat until browned. Heat the base broth. While it's boiling peel and dice potatoes, toss into the soup. After 10 minutes add mushroom soup mix and white mushrooms if they are done, add also dried shitake mushrooms.. Spice as you like with salt pepper and other listed spices.
In last 5 minutes you can prepare sour cream mix with flour and add to the boiling soup. This step is not necessary but nonetheless very tasty 0_o
Serve with pasta of your choice or plain with potatoes.
Until next time, take care of yourself and each other 0_o
P.S. Cookies thoughts: Always a good meal, hits the spot, and I prefer my soups thicker, not watery and full of flavor, so I'd suggest if you DO use the sour cream and flour, and as always Magda Cooks... it just right!