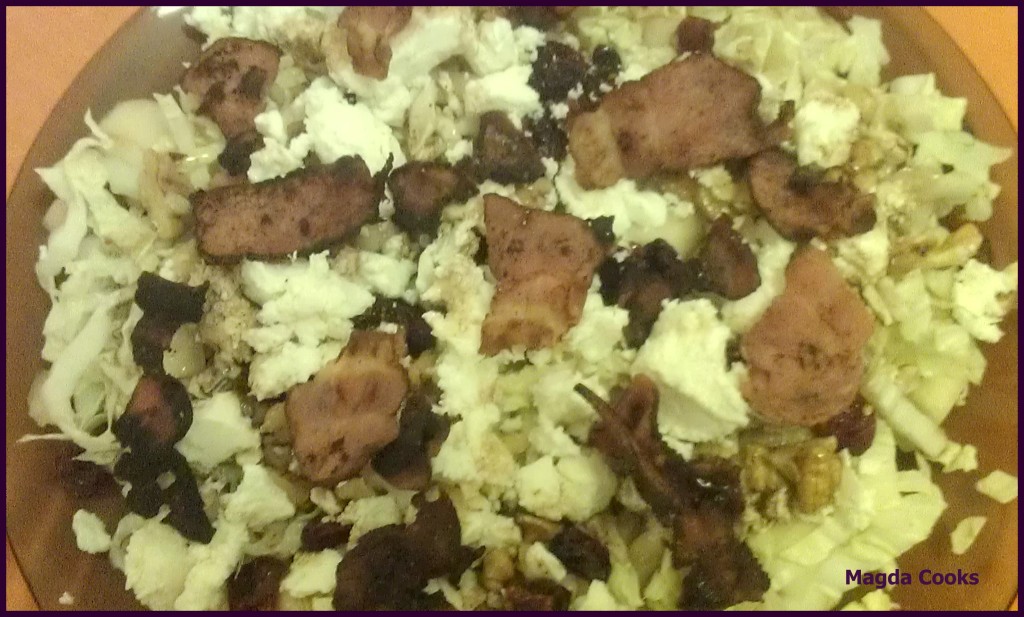 Sometimes Cookies comes back home very late, he claims that from work 0_o, but who knows where he hauls his ass in the big city! 0_o
Nonetheless when he does, he usually comes home very hungry, and it is usually around 10pm and the last thing you should eat at that moment is something heavy and carbed to no end. That is why I usually plan salads for those evenings. This salad has to meet a few rules – no worries 😉 it's not stiff health/doctor rules. Just common sense rules, as I'm a fan of using common sense.
So the rules I suggest and follow are:
a) a lot – use humongous amount of greens as a base – mostly lettuce or cabbage (did you know that cabbage needs more energy to digest then it supplies? This is why it's perfect dieting vegetable)
b) protein – usually chicken or turkey but bacon is not bad if you find not greasy one and doesn't use a pound for 1 portion 0_o, on second thought go ahead and knock yourself out if you please 0_o
c) light dressing – meaning vinaigrette type is much better then the mayo based one.
d) no carbs – or at least very limited amount. I usually make it strictly no carbs.

Pear and Bacon Salad with Balsamic Vinaigrette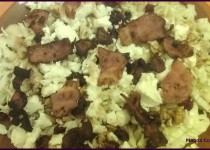 Prep Time: 25 minutes
Cook time: 10 minutes
Yield:

2
Ingredients:
Instructions:
Cut napa cabbage into strips or toss bagged lettuce on the plates. If you buy sliced bacon cut it into smaller strips and fry without oil until crisp and looks like little bows. Peel and dice pear and roughly chop walnuts. Mix thoroughly dressing ingredients.
Layer products on the cabbage/lettuce, crumble feta and arrange bacon bows on top, sprinkle dressing and finish with cranberries.
Eat slowly enjoying the sweetness, sourness and saltiness on this feeling salad.
Until next time, take care of yourself and each other 0_o
P.S. Cookies thoughts: Surprisingly this one at first thought was NOT enticing me at all... then the magic happened, and I was into it, a very nice light and SATISFYING meal... and Magda Cooks... it just right!