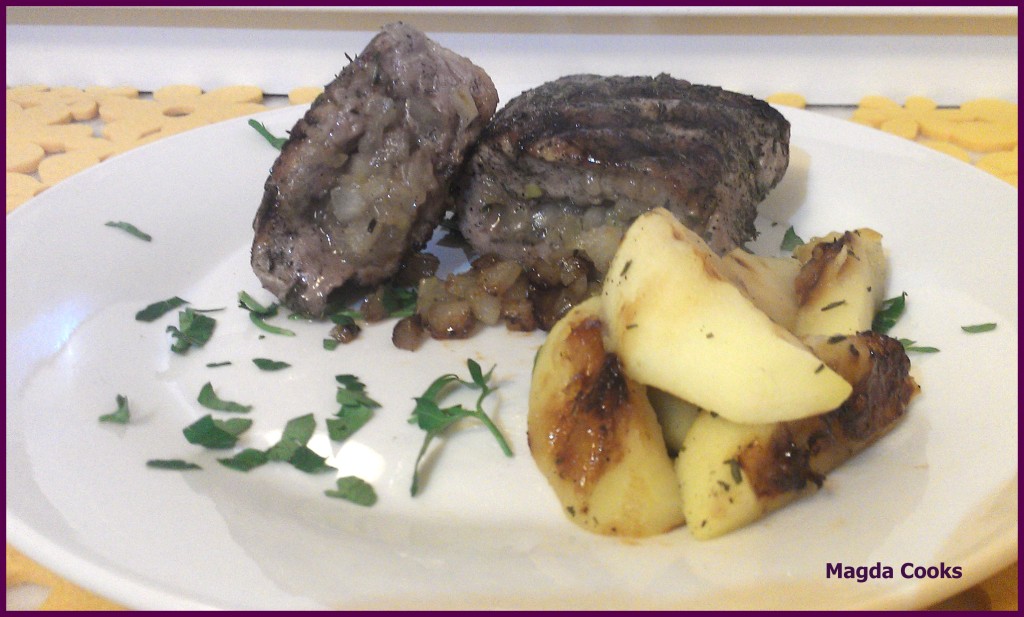 If you didn't know, pork tenderloin contains as much fat as chicken breast – so it's nice change for us dieting people 0_o. It doesn't need too much work or cooking time. The meat is very tender and tastes great without too much effort. I encourage you to use this meat which is relatively not too expensive and what is more important: easy and fast to prepare. Make sure that you don't cook/grill/fry it too long – it tends to get hard and rubbery if overcooked.
This meal can be served even for as much demanding person as your Mother-In-Law 😉

Pear and Sugar Onion Stuffed Pork Loin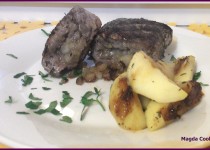 Prep Time: 30 minutes
Cook time: 15 minutes
Yield:

2
Ingredients:
Instructions:
Clean the loin and dry it. Cut it into desired pieces. Using sharp knife cut a pocket into the shorter part of the piece. Sprinkle inside out with salt and pepper.
Peel pear and apples. Cube pear tiny and dice onion. Cut apples into quarters. You can smear apples with some lemon juice so it won't darken, if you wish.
Heat oil in a small skillet, toss onion and pear, stir fry for a minute, add honey and stir fry for another minute. Stuff meat with the mixture, smear with some oil and put on hot grill along with smeared apples. Grill meat until not raw 0_o and apples until soft.
Serve with rice or if you try to cut carbs, like me with additional salad.
Until next time, take care of yourself and each other 0_o
P.S. Cookies thoughts: I thought this meal was awesome. Magda Cooks... it just right.