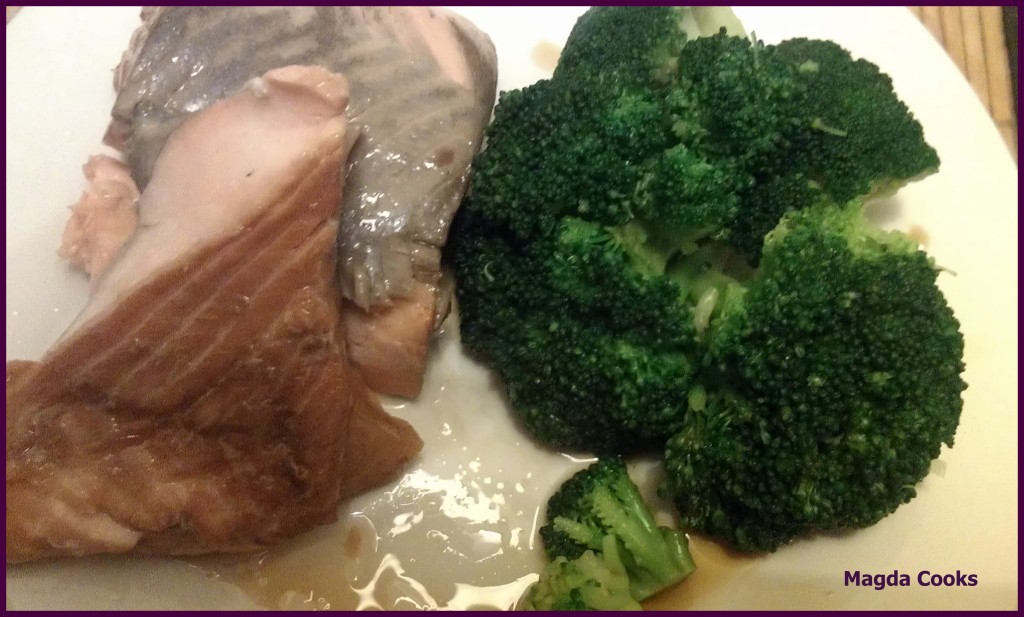 I don't know if it's working LOL cos I don't have a scale but I continue to cut carbs from my diet – Cookies too. Actually he wants so much to eat something other than an apple, some yogurt and yes… peas with ketchup 0_o, that he doesn't complain anymore, to not spook me LOL. I love it actually, cos I can put even garlic into the food and he won't complain 0_o. Though this meal he likes as much as I do (rare), mostly because of the simplicity and we feel we eat healthy 😉

Steamed Salmon in Teriyaki Marinade with Broccoli
Prep Time: 25 minutes
Cook time: 6 minutes
Yield:

2
Ingredients:
Instructions:
Place both pieces of salmon into a plastic container, long and flat is the best, so they can sit side by side not on top of each other. Pour teriyaki sauce over and make sure it coats salmon good. Put the container into the fridge for the night. As long as you don't sleep make sure the teriyaki covers the fish at all time.
When you start for dinner prepare pots for steaming. I have this sweet chinese steaming basket, which I love to use. Pour water into the bottom of the pot and also the leftover teriyaki from the marinade. Start boiling and in the meantime prepare broccoli - split into smaller florets. Remember that for steaming broccoli, that it needs to be fresh. Steam salmon and broccoli for few minutes. Salmon usually needs 4-5, broccoli around 5.
When you arrange it on the plate sprinkle broccoli with a drip of light soy sauce.
I usually serve it without carbs but it works good also with basmati rice.
Until next time, take care of yourself and each other 0_o
P.S. Cookies thoughts: This meal I do truly enjoy and like a whole lot... its good stuff, the flaky salmon, and the broccoli mix just goes together like peanut butter and jelly... yeah :) really.