I thought it wouldn't be possible… This is POST #20!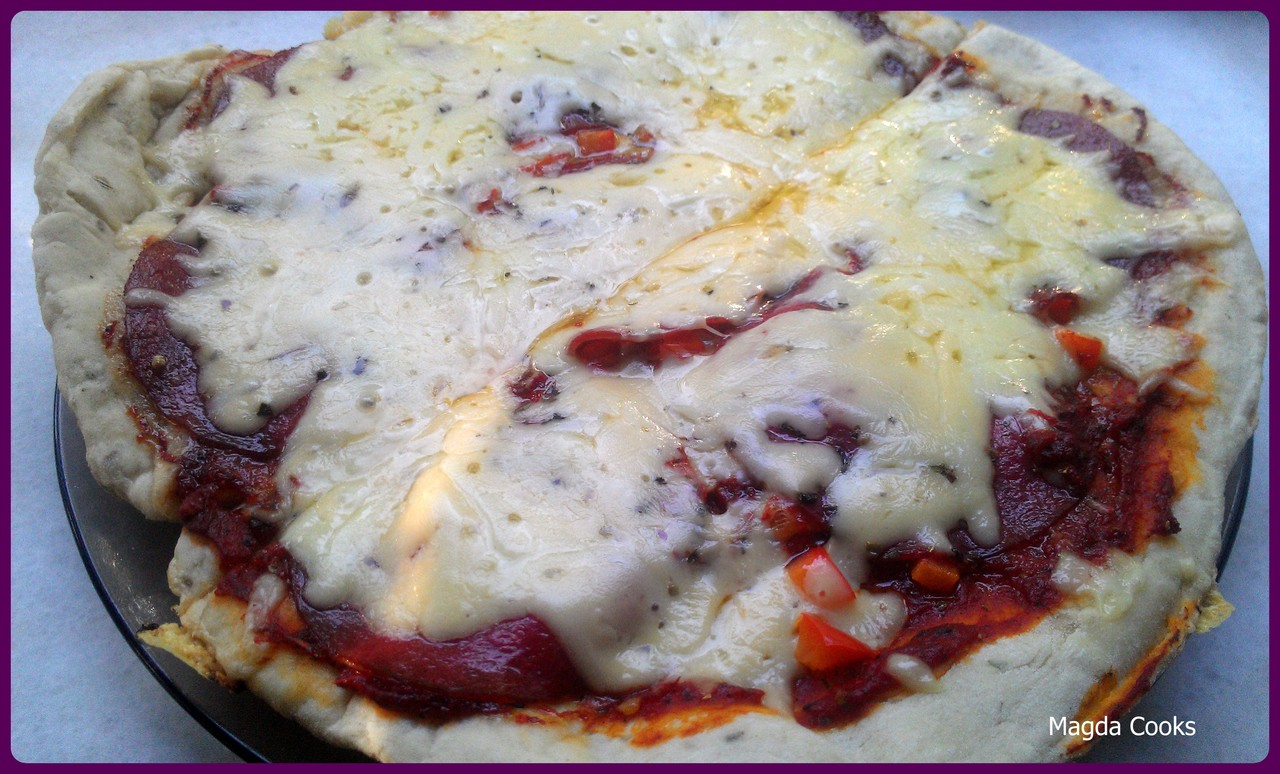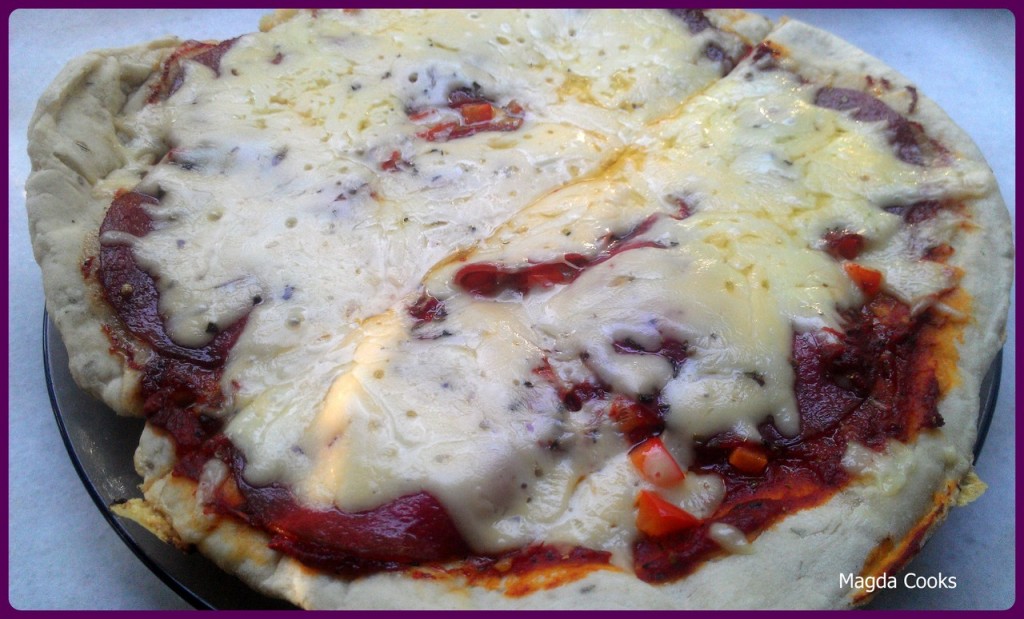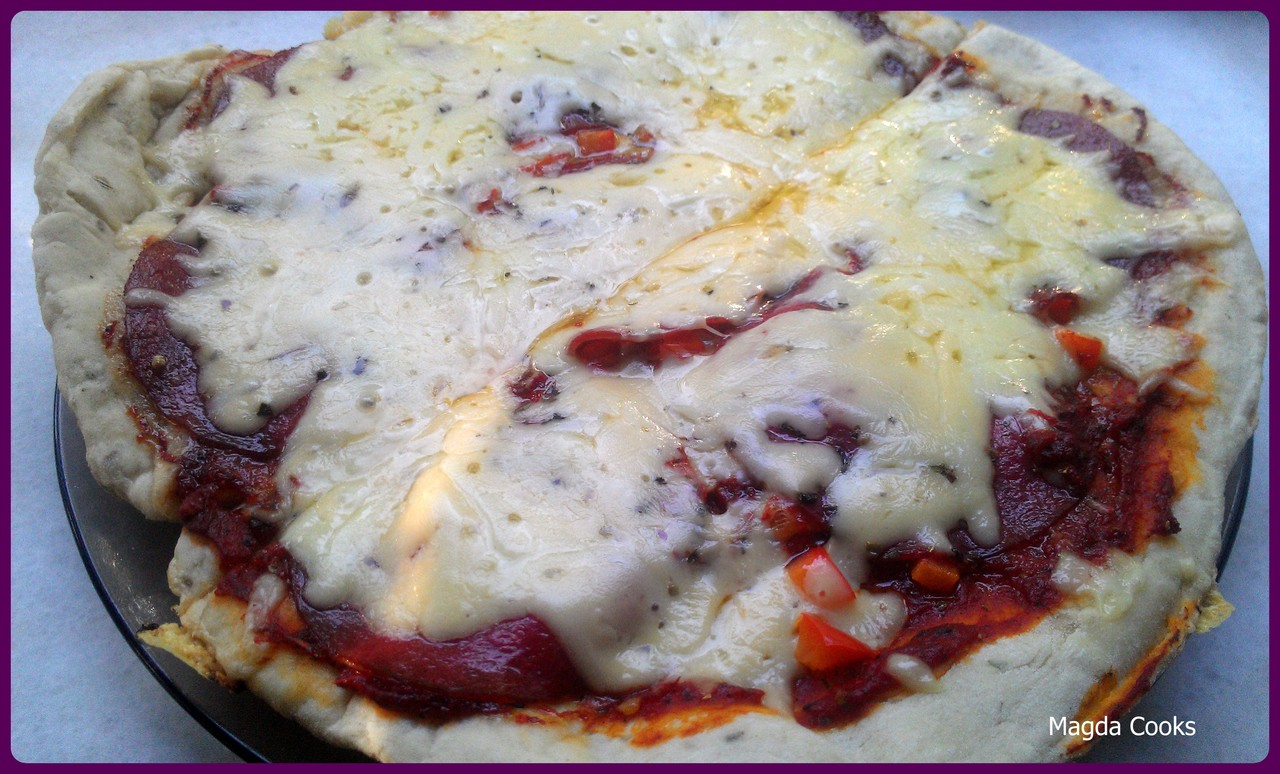 I thought it wouldn't be possible… This is POST #20!
It's no wonder nor a mystery that we like pizza. We ordered humongous 4 seasons pizza from Biesiadlowo and enjoyed every piece ;-). Since I don't have oven at the moment I thought cooking a pizza at home was a big NO NO. Until I found a FRIED PIZZA recipe on some kind ask a question site. I thought it won't work… but since Cookies had his puppy eyes 0_o (if that's possible with the disciple of SATAN) I'd give it a try. Thought I always can call Biesiadlowo if it won't work, what the hell 😉
The end result was spectacular! You wouldn't say it's pizza made/fried on the pan! Cookies even helped and made his secret tomato sauce, which is no longer secret…
Ingredients for 2 medium pizzas
For the dough:
500g all purpose flour
10g yeast
1 glass of warm water
3 spoons of oil/olive oil
1 tsp fructose (or any sugar)
1,5 tsp salt
1 tsp oregano
1 tsp basil
Topping: pepper salami, shredded cheese, red pepper – just what I had, I believe it will be awesome with anything you want.
For the sauce
6 tsp tomato concentrate
2 tbsp oil/olive oil
1 tsp fructose
salt, pepper
pinch of oregano, basil, thyme
Preparations:
Put yeast into glass of warm water along with sugar and set aside for couple minutes, until yeast starts growing. Prepare tomato sauce: combine all ingredients in a bowl and stir thoroughly, set aside.
Put flour into a bowl, put salt and pour water with yeast, oil, oregano and basil – start mixing with a spoon. After it starts looking like a dough use your hand and knead it for a minute. After that transfer onto the ledge sprinkled with flour and knead some more until dough is smooth and flexible. Put into a bowl and set aside for couple minutes to let the yeast work. After 10 min. it should be significantly bigger. Divide it in half. Heat your pan, while you roll the dough to needed size – mine was very uneven 0_o hehehe had to use tin foil roll ;-). When the dough is ready, place it on the DRY pan and heat for 2-3 min on medium heat, turn upside down and start preparing toppings – tomato sauce, sprinkle with cheese, pepper, salami, oregano – basil, then put good amount of cheese to cover it. Fry on DRY pan COVERED on small heat for 5-10 min. You have to pay attention, cause first one took 10 min and second only 8.
Serve hot and steamy!!
Until next time, take care of yourself and each other 0_o
P.S. Cookies said it was REMARKABLE, and he was shocked how good it worked,
YEAH BABY!
---