Moment of truth…
Moment of truth…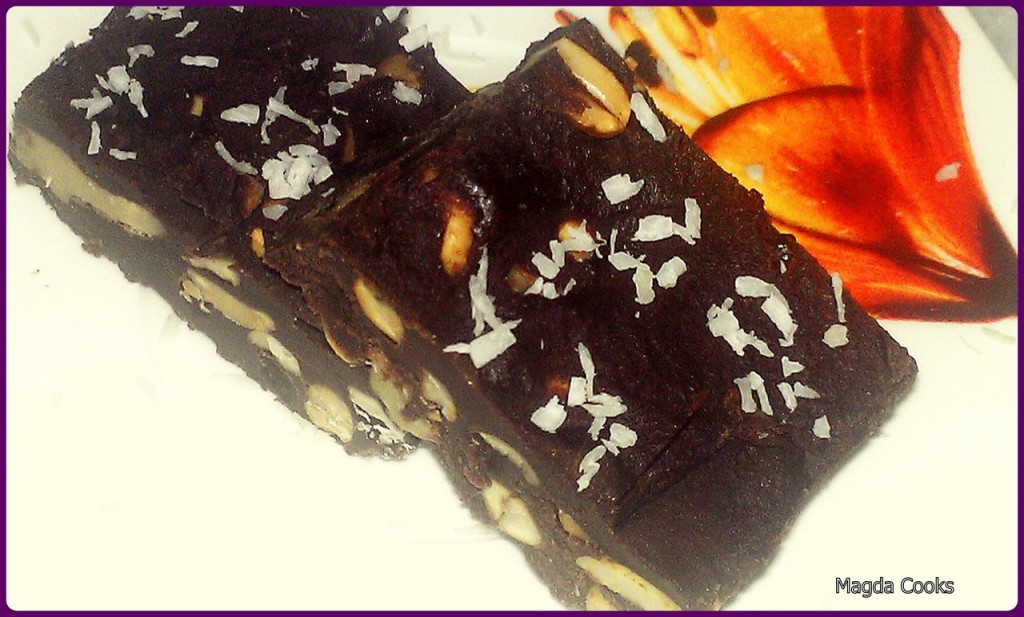 I have to confess something… I'm a chocoholic, yes. My name is Magda and I'm a chocoholic. My story starts a loooong time ago… when I got my first milk chocolate bar, who is the culprit for starting me on chocolate? I don't know. Was it my mom? My granny? Or my dad? I don't know, but I know I love chocolate – milk, bitter, creamy, stuffed, on waffles and cookies or on Cookies… shit what did I say again? I just love it, no denying that. My tragedy is I can't eat too many sweets – I look at a chocolate bar and I suffer… BUT I found this wonderful Nigella Lawson's recipe for Sweet and Salty Crunchy Nut Bars… I modified it a little and now they can run as 85% diet… unfortunately not 100% cos of a little sugar coming from milk chocolate, that's one of ingredients. It took me only 20 min to make, so I rate it as easy…

Like I would do anything else on a Thursday afternoon 0_o. (Cookies edit: maybe wash some clothes?)
Ingredients
2 100g bitter chocolate bar the best 70% cocoa
1 100g milk chocolate bar
50g butter
1 tbsp honey
big handful of salted peanuts
handful of raisins
handful of walnuts (I believe you can stuff it with anything else… something naughty comes to my mind… like putting some gummi bears… UH OH 0_o)
Preparations:
Prepare water bath – pot with water and the bowl on top, make sure bowl doesn't touch boiling water. Put chocolate bars, butter and honey into bowl and melt together stirring. After mass is smooth and glossy set aside for about 10 min to cool it down. Add peanuts, walnuts and raisins, stir thoroughly, Prepare small metal or plastic form, lay it out with plastic wrap, put chocolate mixture in, smooth it and refrigerate for 2 hrs. It should be solid and easy to cut into desirable size.
Unfortunately not transportation friendly, melts 2 min after it's taken out of the fridge – so rushing is required 0_o. I don't mind at all LOL.
P.S. I'm eating it while writing and I just left some chocolate smudges on my keyboard… Cookies will be pissed… but I'll make it again cos he demanded it and he won't bitch about smears!!!
---