Blueberry Cobbler by Melissa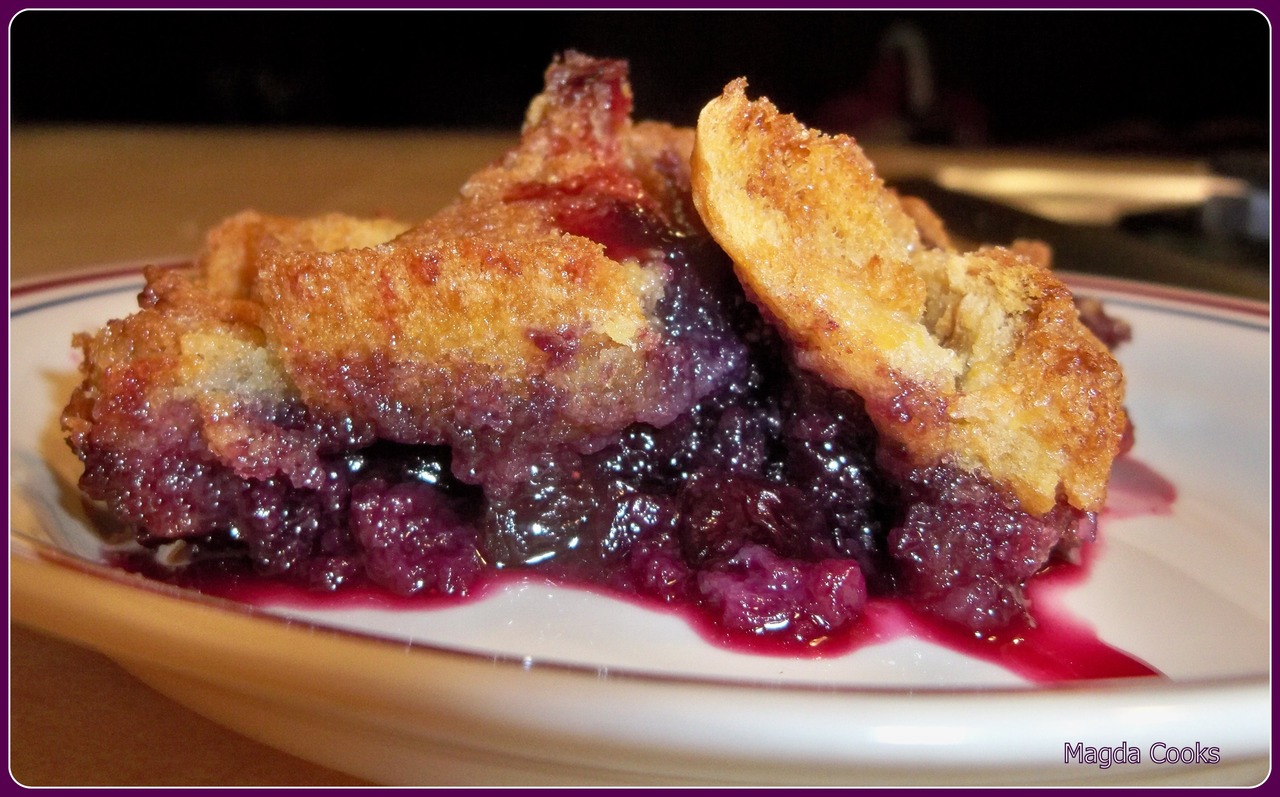 Blueberry Cobbler by Melissa
Since I presented this idea of sharing recipes to my friends, I'm getting plenty of response's 😉 Today I present recipe for a Deep South dessert with blueberries prepared and written by Melissa who lives in Redwood, Mississippi.
As friends from all over the world (0_o I hope, ok?) look at my blog, I let myself recount ingredients and degrees to metric system.
Melissa's recipe
Well, I started off trying to think of a dessert that would be simple, not take too much time in the kitchen, and be about as idiot proof as it comes. That led me to one of my favorites, Blueberry Cobbler. Now, I know what you are thinking, "Wait a minute, don't you have to make pie crust and roll out all that dough for a cobbler?" In this recipe, I am pleased to say, "No!"
You will need the following ingredients:
3 medium (or larger) eggs
3 cups ( 550g) of Blueberries
2 cups (220g) of sugar
1 stick (110g) of butter or oleo
4 or 5 slices of day old bread (white)
Preparations
Preheat oven to 350 (175C) degrees. I use a Pyrex 11" x 7" glass baking dish for this recipe. Coat the inside of the dish with a non-stick cooking spray. Place berries in your dish. Pinch bread into small pieces and arrange over the berries. Make sure all of the berries are covered by the bread. Melt butter then add the sugar and eggs. Stir thoroughly until mixed well. Pour the mixture over the bread covered berries. Be sure that all bread is coated with the butter mixture. Put in the oven for 45 minutes. After removing the cobbler from the oven, let it stand for 5 to 10 minutes before serving.
I have also made this cobbler using fresh strawberries and peaches. I hope you enjoy a little taste of the Deep South!
Until next time, take care of yourself and each other 0_o
---