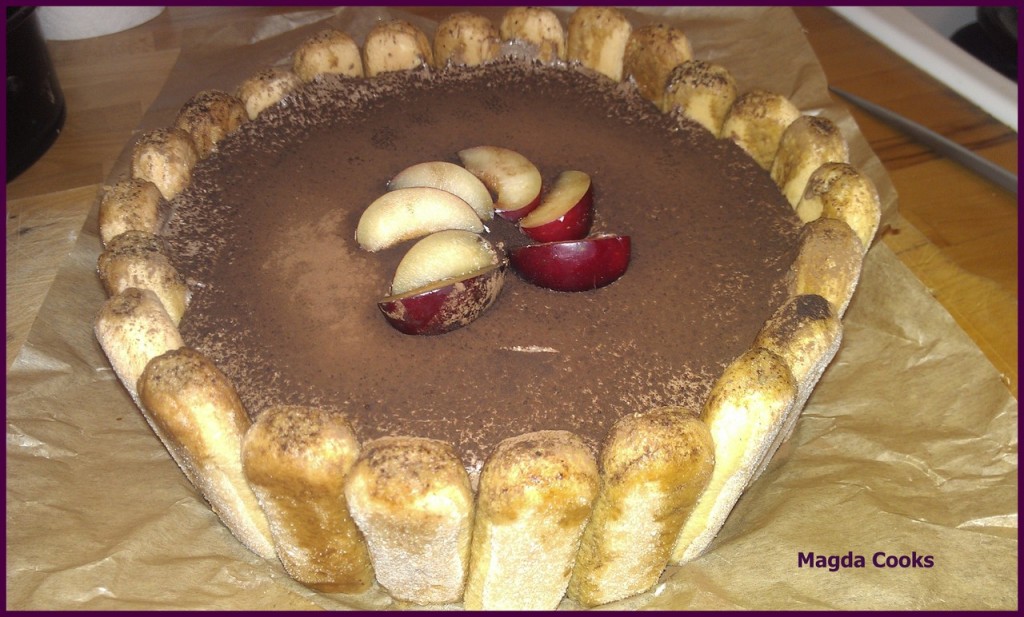 Bday Cheesecake
Remember when I told you I got this cooking magazine in Auchan? It was really full of great recipes. I made another one for Cookies …th birthday. I wanted to write I did it cause I don't have an oven, but I would be lying 0_o. cause a couple days earlier I got myself also in Auchan a HALOGEN OVEN. I have couple recipes for you to make in it, if you have one yourself, but I'll write about that later on, right here on Magda Cooks.
This post is ALSO my 50th so I decided I'll celebrate it along with Cookies getting… younger 😛
I made for him a really nice looking, tasty cheesecake. Original recipe was with plums or nectarines but I suggest you make it with bananas or pineapple.
Ingredients:
1kg (2 lb) high fat cream cheese (don't let yourself to be fooled by ads saying it's the best cream cheese for cheesecake 0_o. usually those are too liquidy.)
1 package of dry gelatin
2 packages of long dry sponge cakes
½ cup fresh made strong coffee
200 ml milk
250g soft butter
½ cup brown sugar
3 tbsp cocoa
2-3 ripe, but not too ripe bananas or half can of pineapple
Preparations:
Prepare cake tin, cut a square of wax paper and place inside, make sure the sides are covered to and stick tight to the sides of the tin.
Melt gelatin in ½ cup of cold water. Heat milk (don't boil) and pour into gelatin.
Grind cheese at least once or just use food processor, add butter, milk with gelatin and sugar.
You can use some vanilla to spice it up 😉 Mix thoroughly until smooth. Divide mass in two equal parts and to one add cocoa and mix good again.
Now layering the cake: Place sponge cakes around the tin making sure they are relatively equal in height, place more sponge cakes in the bottom and pour coffee using table spoon. Don't worry if the sponge cakes doesn't want to stand still… just improvise 😛 If you are frustrated … think Magda did it and she is more WAY clumsy than me!
Place cream part of the cheese mixture on the bottom, smooth it even. Place a layer of sliced bananas or pineapple. Cover with leftover part of cocoa mixture and smooth even.
You can cover top with chocolate icing or just like me with cocoa sifted through small strainer.
Place fruits on top for nice look 😉
Serve with love to your own Cookies 😀
Happy …th Birthday Cookies!
Until next time, take care of yourself and each other 0_o
P.S. Cookies thoughts: I need more METFORMIN… joking, highly recommended, as this was a major surprise, Magda Cooks… it just RIGHT!