I was asked nicely today by our friend "Tom" 😀 to post something today. I looked into my stash of pictures and found this awesome meal that I learned to do from my Dad. It's fish under the blanket of veggies. Even if it's called greek fish, it's as much Greek as Russian pierogi (with potatoes and cheese) or Italian salad (vegetable salad I posted in the beginning of my blogging).
It's an easy dish to make, but the actual preparation take's a good amount of time, because the whole secret of this dish being spectacular is the way you prepare veggies. If you shred them… the dish will be okay but mush. The secret is to cut all the veggies into match size sticks. I think its called julienne? there is also second solution – buying a shredder which can do that. My Dad has one and his preparation takes 15 minutes ;-). I bet if you are skilled cutter you can cut it in the same amount of time, but I'm quite clumsy, so it took me 40 min and ended with pain in my right wrist. Cookies actually loves it so it was worth it! 0_o Can't believe I just said that 0_o. With cutting it into the match stick size you will get the perfect texture and will be able to taste a variation of flavours, and avoid mixing everything in a unappetizing pulp.
Tato, dzięki za przepis i każdą okazję kiedy smażyłam rybę razem z Tobą 😉

Dads Greek Fish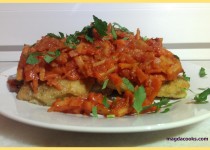 Prep Time: 25 minutes
Cook time: 20 minutes
Yield:

3
Ingredients:
Instructions:
So... prepare veggies by cutting it into match size sticks. Put deep skillet on the burner and heat 2-3 tbsp oil, toss veggies in and saute for max 5 minutes. Pour water, cover the skillet and stew it for 15 minutes then add tomato concentrate, 1/2 lemon juice, salt, pepper and sugar, all spices to taste. The whole mixture should be thick with visible texture of veggies. If you want to serve it as a hot dinner or supper dish, make sure the spices are enough. If you want to serve it as a cold dish on a party table, make sure sauce tastes too salty, too peppery and too sour, because when served cold it will loose a little intensity. Of course don't forget to fry fish ;-) do it your favourite way, can be grilled, fried coated or baked, doesn't really matter. Just spice it. Cookies likes it coated and fried.
Serve fish under blanket of vegetables. As hot meal can be serve with potatoes or grilled baguette, as cold can be eaten with bread or just a bun or simply alone. Tastes incredible every time I make Dads this way.
PS. Cookies thoughts: Besides Pizza, and Chicken Nuggets this dish I literally can eat EVERY DAMN DAY… seriously I enjoy it that MUCH… incredible and don't let the prep time intimidate, the end result is WORTH IT. Triple AAA+++ recommendation.
PS1. You forgot SLOPPIES :P