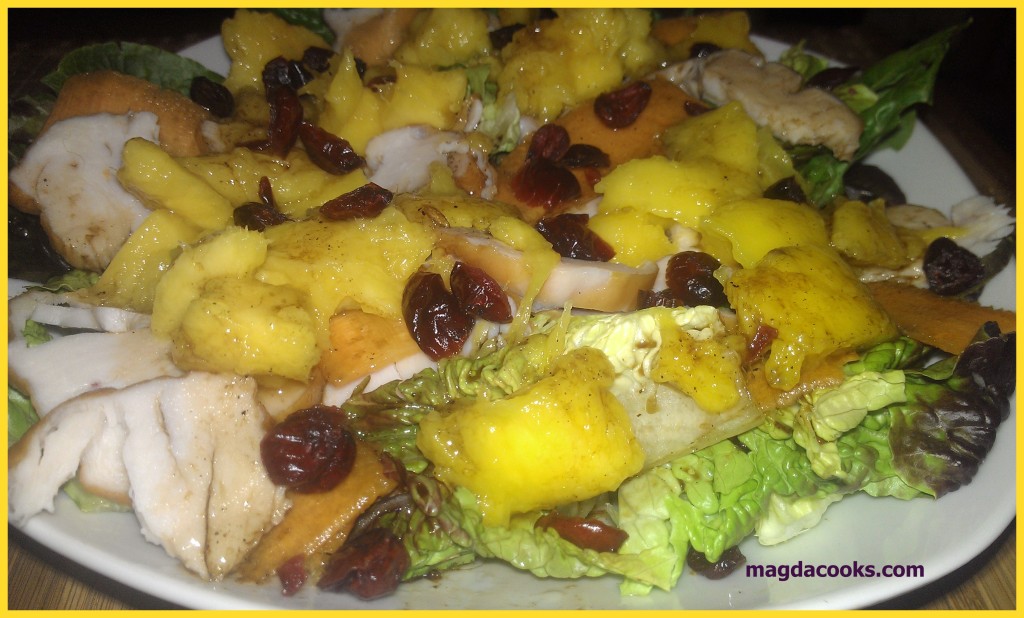 How was your Christmas? Did you traditionally over ate Mom's prepared goodies? There is nothing better than my Mom's pierogi with sour kraut and wild mushrooms… Though this year I can proudly state: I didn't overeat… probably only cos I caught some nasty virus on Xmas Eve… Actually Cookies job – he was sick for previous week and this got him out safely from celebrating what he loves to call "Evil Xmas…" Anyhow, I haven't been cooking much lately, mostly baking – as I learned a recipe for the perfect banana bread and after the 5th time I can call myself officially the "Banana Bread Goddess" and I also, created a new recipe for little cheesecakes and yeah, I mastered the muffins recipe… Jeez Louise! It sounds like I was bunkered in the kitchen! Thankfully it was fun 😉 And I invented today, quite nice recipe for a weird 2 layer cheesecake… Will share next time when I will perfect it.
Today I want to share simple recipe for tasty light after feast snack – the next day like – I'm guilty of eating 43 pierogies and whole turkey leg 0_o. It will be Cookies Nemezis – evil SAAAAALAD.
Very easy – as usual – very tasty – as usual – very light – as most of the time 😀

Smoked Chix over Romaine Lettuce with Balsamic Vinaigrette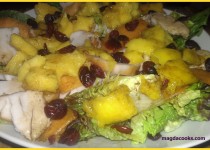 Ingredients:
Instructions:
Slice breast into elegant pieces, rip lettuce into smaller chunks or if it;s small just separate the leaves. Dice mango. Using peeler peel longer strips of carrot. Arrange everything on the lettuce.
Prepare small jar, poor oil, vinegar and lemon juice - sprinkle with salt and pepper. Put the lid on and shake good, until the liquid starts emulgate. Pour dressing over arranged chix and lettuce and serve sprinkled prettily with cranberries. Now when I write it I think it would go good with some pomegranate seeds.
Enjoy this light snack every time you overeat your Mom's goodies :D
Until next time, take care of yourself and each other 0_o
PS. Cookies thoughts: Can't complain, I like CHIX, (just got grilled CHIX, with COUSCOUS and Tomatoes… JEEZ LOUISE that one Magda Cooks!), anyway I don't recall this one :), not cause I didn't like it, but because there's been so much BAKED goodies, I can't remember the meals themselves… but anyway, it sounds good and LOOKED good, and tasted good, like usual, Magda Cooks… it just right… and soon we will say, Magda Bakes… it just right (though we WILL not start a new site, I got enough problems getting her to maintain this one!!! :) HAHAHA)
PS1. I just need an assistant and a bigger kitchen with an island in the middle. JEEZ LOUISE! someone has to wash dishes and clean the mess I leave behind 0_o (Cookies: Thats an UNDERSTATEMENT right there!) Okay, it's a freaking war zone, happy? (Cookies: No, cause I usually am the mess makers ASSistant…)