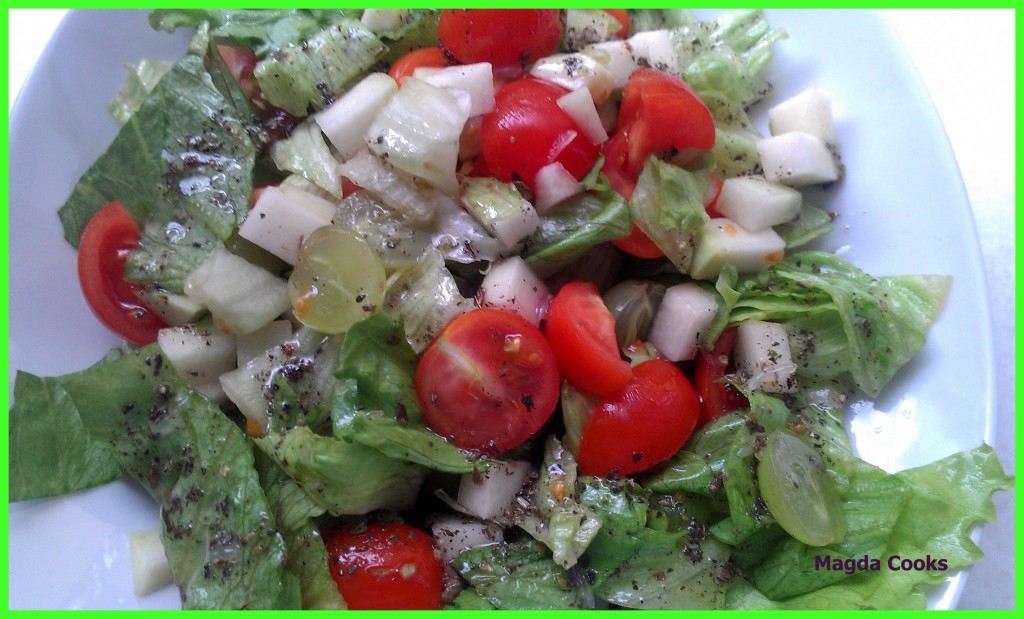 I have a couple of reasons for researching new recipes, or creating my own dishes. One of those is my need to cook something new and healthy, or just new 0_o and tasty. The other reason, which is much more annoying is of course, guess who!, YES, Cookies. He likes to harass me with complaining, like: "Babes, I don't want the grilled chix anymore, it's boring", It's easy and fast – I'm growling under my breath. SO?? my beloved one asks… "and this salad… I don't want the household salad, it's boring… and the dressing is too sour, too liquidy, too oily, too peppery oh, and don't put sweet pepper in…" the next time I served him plain napa cabbage just cut into strips… He ate it and didn't complain for another week…victory!
So, under pressure I had to figure out new salad that would fit for most of the meat meals. I then created it based on the basic rules: greens, tomatoes, other veggies + extra ingredient and simple dressing. This way standard household salad evolved into a little more of a sophisticated version – for how long? We will see… he didn't make his typical face yet… Oh I might be lucky for a little bit cos lately hell froze over – he ate sour cucumber! not in a soup, just plain… so maybe I can make some salads based on that if he starts moaning again… in 3…2…1…
Meanwhile the new recipe is…

The Standard Household Salad
Ingredients:
Instructions:
Start from the dressing, take a jar, add all ingredients, cap it and shake good, set aside. This time it is really easy, cut, rip, chop or cube the way you feel about it, I like big pieces, and of course, Cookies, well, he likes small pieces - so I go half and half 0_o. Cut tomatoes and grapes in half, and dice kohlrabi. Toss together in a bowl, pour the dressing 5 minutes before serving and enjoy easy veggies for any meat meal.
Until next time, take care of yourself and each other 0_o
P.S. Cookies thoughts: What!? I do moan? I thought only Kakuniu moans when you don't feed him or let him go sleepieguys :) but yeah I am a bit picky sometimes, and I do make her life hard with it, but I can't help it. This salad was a surprize, as I am not too uppity on Kohlrabi, but it wasn't overpowering, and it worked the intended purpose, Magda Cooks…(well) in this case, prepared it… just right...