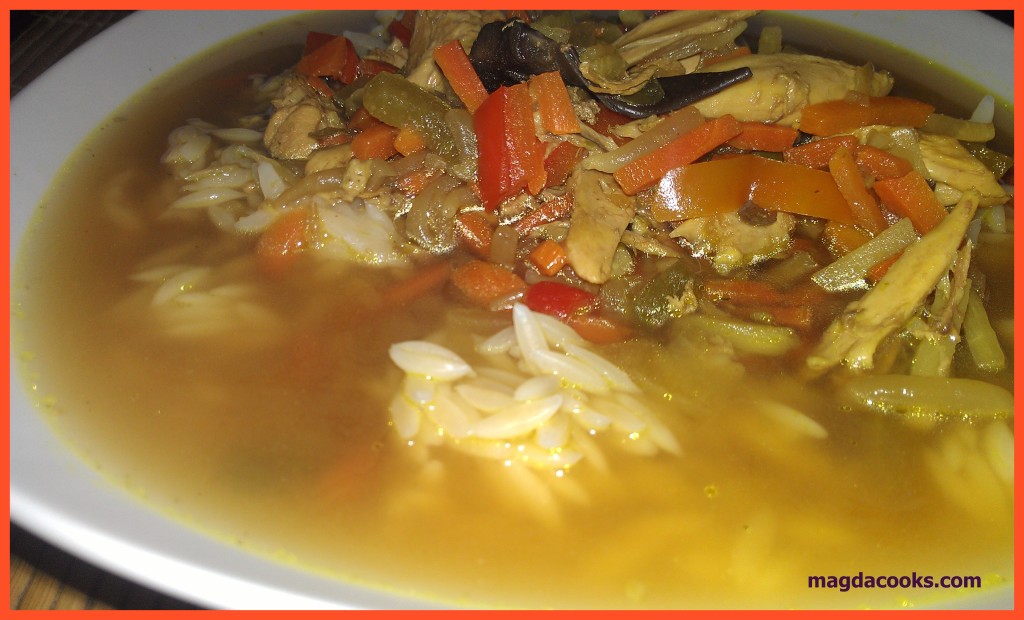 As I've mentioned probably 43,000 times before, we are trying to eat relatively healthy and different. Because of that we have couple rules about weekly meals, like at least 1x vegetarian, 1x fish, 2x meat and definitely soup for 2 days. Mostly I can rotate the 5 traditional soups in a circle but there comes time when we don't want oldschool and need new. This time I got the idea for the soup from one of weekly newsletters, that I get from cooking sites. The recipe was interesting enough to make me want to try it.
The first time I prepared it exactly how the recipe called for and as the flavor was great, the texture wasn't that high on my pallet. I really don't like mushy rice, which happened when the rice was cooked in the soup and also using chix corps made it very greasy.. OK, actually it was terrible and I almost never did it again, just as I was about to chalk this one up as "a forget it" Cookies reminded me that I can change things my way… The following recipe came into being after I gave it 2+ weeks, lets call it "sleep time".
I changed most of the base preparations, instead of using chix corps for the base bouillon Cookies cooked his masterpiece of chix wings base. Which is full of flavor and not greasy at all.

Oriental Soup with Orzo
Prep Time: 10 minutes
Cook time: 20 minutes
Yield:

4-6
Ingredients:
Instructions:
Start from cooking orzo pasta in separate pot along with the users manual on the back. Don't forget to boil it 30s shorter than the package says, to make it nice and all dente.
Heat bouillon, dice pepper and add it along with asian veggies mix, boil for few minutes. In the meantime scrub ginger skin with a teaspoon and shred it into the pot. Spice with soy sauce, coriander, sesame oil (max 2 tsp), 5 flavor spice (max 1/2 tsp), turmeric and curry and garlic powder. Boil until veggies are soft, really not more than 15min.
Put pasta into the bowl and pour the soup over, this way nothing will be mushy ;-)
Enjoy this nice, hot and healthy soup on a dark winter evening.
Until next time, take care of yourself and each other 0_o.
PS. Cookies thoughts: I actually liked the first version too, even if the chix corpse was a bit too greasy for my tastes. A lot of the recipes that Magda makes, she has to change due to our needs. In this case, the change was for the better, and again, Magda Cooks… it just right!