I remember I confessed that I'm a chocoholic in one of my older posts (Moment of Truth), since that moment I tried to withdraw but it's harder than anything ;-). Okay, I didn't try that hard :P. So when Cookies told me about Reese's Peanut Butter Cups, I thought it will be easy to recreate them at home, and actually it was 0_o. I browsed some Internet sites to get idea how to do it, and when I got the feel I created my own little recipe. Also because tried to do it as much diet as possible… and if you close your eyes on the powdered sugar and this tiny amount of butter it is 0_O Eh, to feel better you could use only bitter chocolate with min. 70% of cocoa – that's MORE diet for sure.

Chocolate Peanut Butter Cups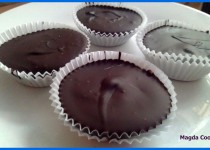 Ingredients:
Instructions:
Take butter out for at least 30min before you start - it needs to be soft. Break chocolate bars into pieces and place in a bowl. Melt chocolate in water bath with 1 tbsp butter. Stir from time to time.
In the meantime place peanut butter, the remaining 2 tbsp soft butter, powdered sugar and a pinch of salt into bowl and stir good (can use blender, thought for that amount I think its too much hassle with cleaning afterwards 0_o). Make sure your mixture is combined thoroughly and creamy, yet not too thick. Set aside.
After chocolate is melted and glossy, let it cool for couple minutes - not completely, it has to be liquidy (able to pour).
Prepare either small muffin tin or cupcakes papers - two for one chocolate.
Pour melted chocolate on the bottom of the tin or papers, not more than 1/3 of the whole height, place on top a nice dollop of peanut butter mixture as much in the middle as possible, and cover with more chocolate. Cookies and I did it together so it went fast and organized. Each had his/her task to do! Place tin or papers in a plastic box, then into the freezer for 20 minutes. After chocolate harden move the box to the fridge.
Enjoy this semi-diet dessert one at a time, this amount of pleasure has to come in small dosage 0_o.
Until next time, take care of yourself and each other 0_o
P.S. Cookies thoughts: What can I say... it worked and Magda Cooks... it just right!