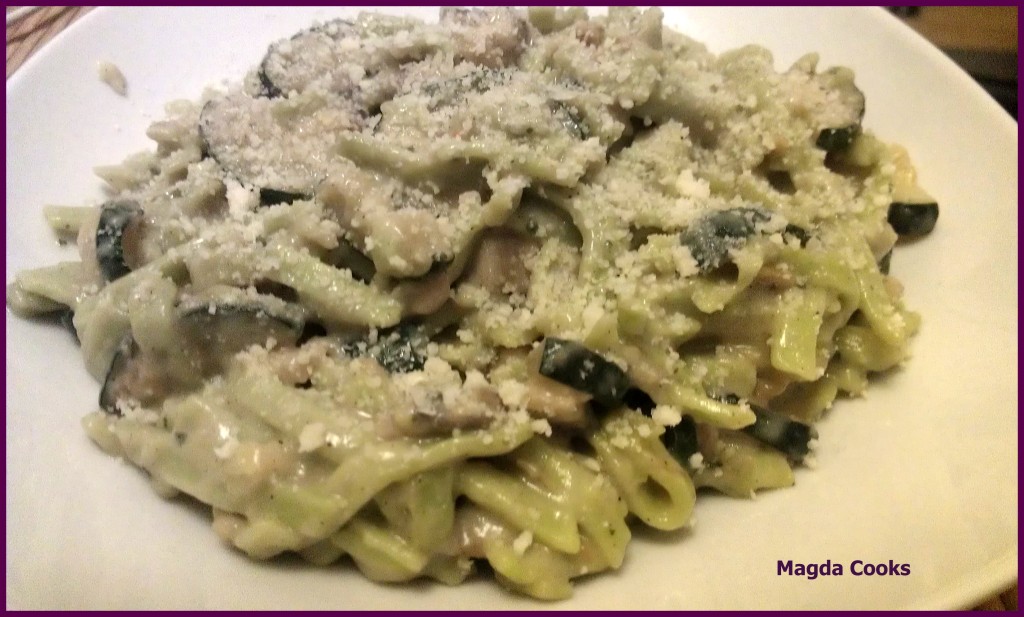 So I was given the task of "what to eat?" this is a beast that lives in the Magda Cooks household. The movement is on to avoid excess or ANY carbs, and to try to make something to go onto the blog. So I went to the kitchen and was thinking, what do I have and what can I do WITH it. So on this particular day what I had to work with…

Zucchini And Mushrooms Pasta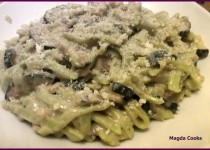 Prep Time: 40 minutes
Cook time: 25 minutes
Yield:

3
Ingredients:
Instructions:
And that was that. OK, if you may or may not be familiar with the show "Ready, Steady, Cook", it was a show that gave the "celebrity chefs" a limited amount (not many) of ingredients, with 20 minutes time limit, and told them "make something from it..." well, lets call this one, "Ready, Steady, Cook" today.
As you can see there are your ingredients to USE, listed above... so lets prepare them.
Take the mushrooms, and clean them if need be, then cut them in half and half again, toss them into a heated wok, well I used a wok you can use whatever you wish, and I heated it up with some butter. I lightly salted and added some ground black pepper. Cook them down till your liking... I cooked them nearly to browned. While that is ongoing, get another pot, this time one to make your sauce in. Pour in the Milk, 2 bouillon cubes, use a whisk to stir occasionally over medium heat. Pay attention to this, it may boil over if you don't.
While these 2 are going, take your zucchini, and clean it, and cut it... I made halves, and then cut slices from that. I kept the skin on, if not it will just disintegrate. Place aside for a little later.
Once the liquid is boiling, add the which should be ready mushrooms, along with the sour cream into the pot. Stir to create a creamy sauce. You may see it is not thick enough, or too thick. You can add a small amount of water to make it LESS and a tablespoon of flour to thicken. You decide based on your likes and needs. This sauce makes enough to cover 4 medium sized portions.
While that is going on, toss the zucchini into the wok or pan that you made the mushrooms in, and cook till browning starts. About 3, or 4 minutes. At this point your sauce should be ready to place aside for a few minutes to settle and get thicker. Start to boil the water for your pasta. I used fresh pasta so it was ready in 3 minutes, drain and toss into the wok. You can use traditional dry pasta, or whichever one you choose (or like me what I had available on hand). Then toss in the mushroom based sauce. Toss a little to coat the pasta and blend the flavors.
Since everything is warm or hot, it should be ready to serve in 2 minutes. Be careful if you use fresh pasta it can overcook and become "inedible".
Get a bowl or plate, and toss the creation on and add some grated parmesan cheese on top... and eat up. You easily could add grilled pork, or grilled chicken, and use this is a side dish. Or this with some garlic bread sticks, or something... its not low in carbs, unfortunately, but it is HIGH in taste and a fast meal, even if it seemed to be a lot of work.
Until next time, take care of yourself and each other... o_0
P.S. Deep thoughts from Magda Cooks: I loved it. I was worried the zucchini would be mushy, but Cookies did it just right, it was firm and the whole meal creamy! Thanks to Cookies that I didn't have to cook whole 7 days this this week but only 6 0_o.