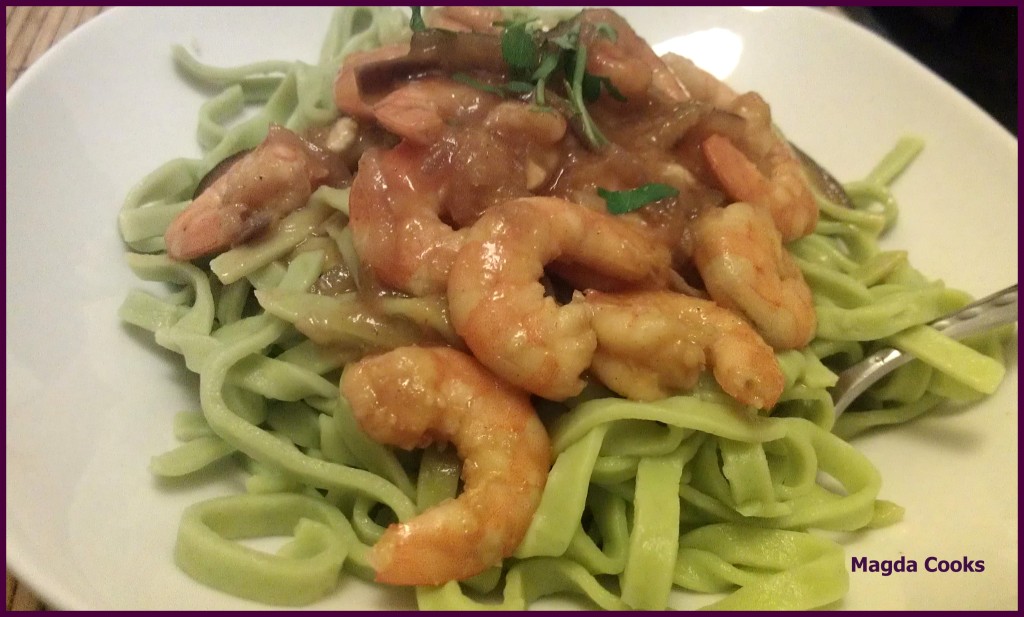 Cookies always says I'm a specialist in cooking shrimps 😉 but I just watch attentively cooking shows and listen to the ppl who really know what they are doing in the kitchen 0_o. One of my basic rules with shrimps comes from Jamie Oliver who said that shrimps love chili, so my every meal with shrimps definitely contains fresh or powdered chili or jalapeno.
This time I added ½ tsp of powdered chili and Cookies was moaning that his mouth was burning – therefore I lowered the amount, but feel free to use as much as you feel comfortable with 😀 Despite the bite of chilli pepper the meal was kind of mellow.

Green Pasta With Shrimps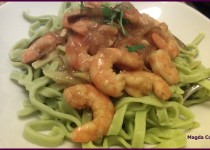 Prep Time: 30 minutes
Cook time: 10 minutes
Yield:

2
Ingredients:
Instructions:
Cook pasta along the instruction. Cut onion into feather like pieces. Heat wok or deep skillet, add oil. Toss onion and ginger, chili and garlic. Stir/fry for 2 min or until onion starts to caramelize then add shrimps and stir/fry for another couple minutes. Mix water with ketchup, soy sauce, sesame oil and brown sugar. When shrimps starts smelling nicely of ginger and onion pour the mixture, make sure it starts boiling, then stir the starch in the remaining cold water and pour into the wok. Boil for another 3-4 minutes stirring occasionally. The sauce suppose to thicken and become relatively translucent.
You can serve it on top of the pasta, but there is nothing wrong in tossing pasta into the wok and mixing it nicely together, in both cases sprinkle with chopped fresh coriander or parsley.
Until next time, take care of yourself and each other 0_o
P.S. Cookies thoughts: I liked it... a lot. Even if it was sort of "hot".