Roasted Cauliflower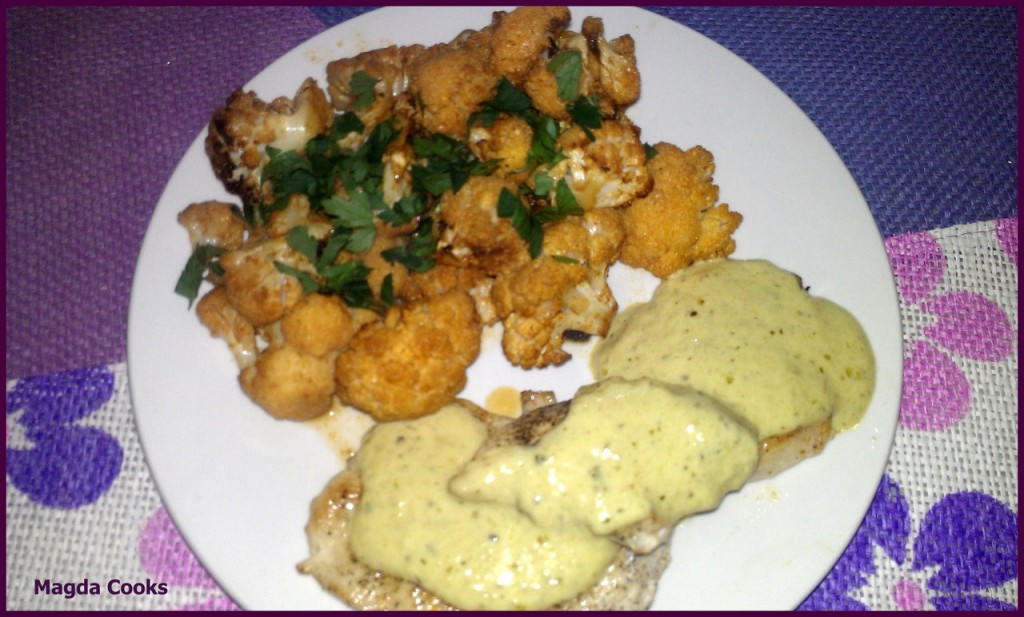 Roasted Cauliflower
Since I got my halogen oven I can't stop finding dishes I can make in it. Since I'm trying very hard not to eat too many carbs, so I decided this recipe for roasted cauliflower with cayenne pepper would be great. Found to go with it a simple chicken breast recipe with cream-mustard sauce. It was awesome idea, because flavours was complementary to each other. I bet you never ate cauliflower with so much fire. Actually next time I'll make it only with half of cayenne pepper 😉
I found this recipe on one of the blogs and changed it a little, cos of Cookies aversion to garlic and limited access to certain ingredients.
Ingredients:
1 big cauliflower head fresh
¾ tsp cayenne pepper or chili pepper
1 tsp sweet pepper
1 tsp ground cumin
1 tsp coriander
1 tsp salt
parsley or coriander
drizzle of oil.
Preparations:
Cut the cauliflower into florets. Mix spices without oil. Place cauliflower into bowl and sprinkle good with the mix. Toss the bowl to cover florets with all the spices, drizzle oil and put into oven heated to 160C (325F). Roast for 1 h. Don't forget to stir it from time to time (I did it every 10 min). When it's soft and ready sprinkle with parsley or fresh coriander.
Ingredients:
2 chicken breast halves
2 tbsps oil
¼ cup chicken broth
½ cup sour cream (18%)
2 tbsp Dijon mustard or any other you have
1 tsp dried tarragon or oregano (in my OWN spices store I didn't have tarragon, which is damn surprising, cos i have 3 baskets and 1 shelf full of spices 0_o)
salt and pepper
Preparations:
Cut every chix breast horizontally in half, beat the meat a little bit to make sure it's not too thick. Sprinkle with salt and black pepper, set aside.
Add oil to a large skillet or pan. Fry chicken breasts on medium-high heat until cooked through, about 10-12 minutes, turning once. Take it out of the pan and make sure it won't get cold.
Pour chicken bouillon into hot skillet. Whisk in the cream, mustard and tarragon or oregano. Cook and stir for about 2-3 minutes, until sauce thickens.
Serve chicken with poured cream-mustard sauce with cauliflowers as a side dish. I treated it as potatoes so I prepared also The Mullen Household Standard Salad.
Until next time, take care of yourself and each other 0_o
P.S. Cookies thoughts: That Cauliflower really surprised me, and the chix breast, which I just can not get enough of… oh wait… I do… STILL an excellent meal, complemented by Magda Cooks… it just right.
---