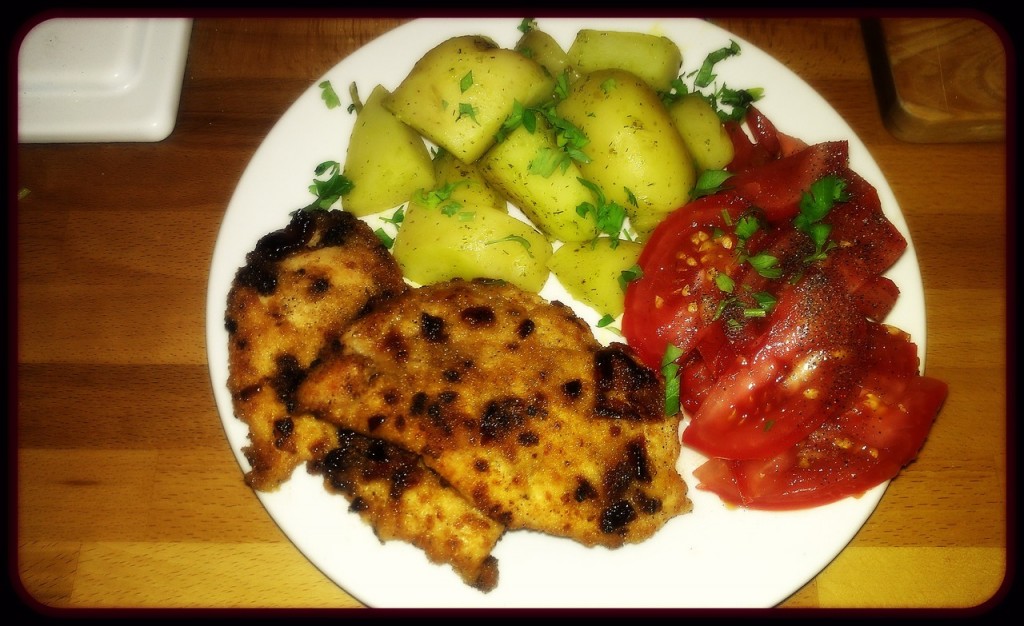 Spectacular inspiration
I wasn't suppose to cook on Tuesday, but since I couldn't go visit my Dad, cos on the previous Thursday Mr. Kakuniu decided to twist his left rear paw so we needed to take him to the vet repeatedly whole week for shots, I had to stay home and do some cooking. Thankfully a few days earlier I was browsing onet.pl and found this simple recipe so I decided to give it a try. Why not? It includes chicken, dried tomatoes and some chilli ;-). I thought it's a perfect match. I wasn't mistaken cos the meal ended up perfect! (check P.S. to find out how Cookies rated it 0_o (he is such a heel…)).
Chicken Cutlets in Spicy Coating
Ingredients:
2 chicken breasts
7-8 dag dried tomatoes
one small chili or cayenne pepper
bread crumbs
egg
salt, pepper
new potatoes
nice ripe tomatoes
some parsley
Start with potatoes – if they are really new potatoes – just wash the skin good, don't peel it. Cut it into smaller pieces and cook until soft with some salt or you could use a potato cube (Knorr makes a good one, flavored butter with dill). Wash and dry the breasts. Cut them horizontally for two pieces each. Sprinkle with salt and pepper. Cut dried tomatoes into really small cubes (make sure your knife is sharp, with a dull one you will make just mash). If you have fresh chili or jalapeno pepper cube it the same size as tomatoes, or if you don't, to substitute if you have cayenne pepper just add 1 tsp into bread crumbs mix. Mix tomatoes and chili or cayenne pepper with bread crumbs. Whip whole egg on the plate. Put the cutlet into the egg, then into the coating mix. Coat thoroughly on both sides and put on hot oil on the pan. Fry until golden brown. For the tomato salad all it is, is just cut tomatoes.
Serve with boiled new potatoes and tomato salad, sprinkle some parsley on top 😉
Until next time, take care of yourself and each other 0_o
P.S. Cookies rated it 9.75 out of 10. Next one I believe will be a freaking 9.82!! Bitch.