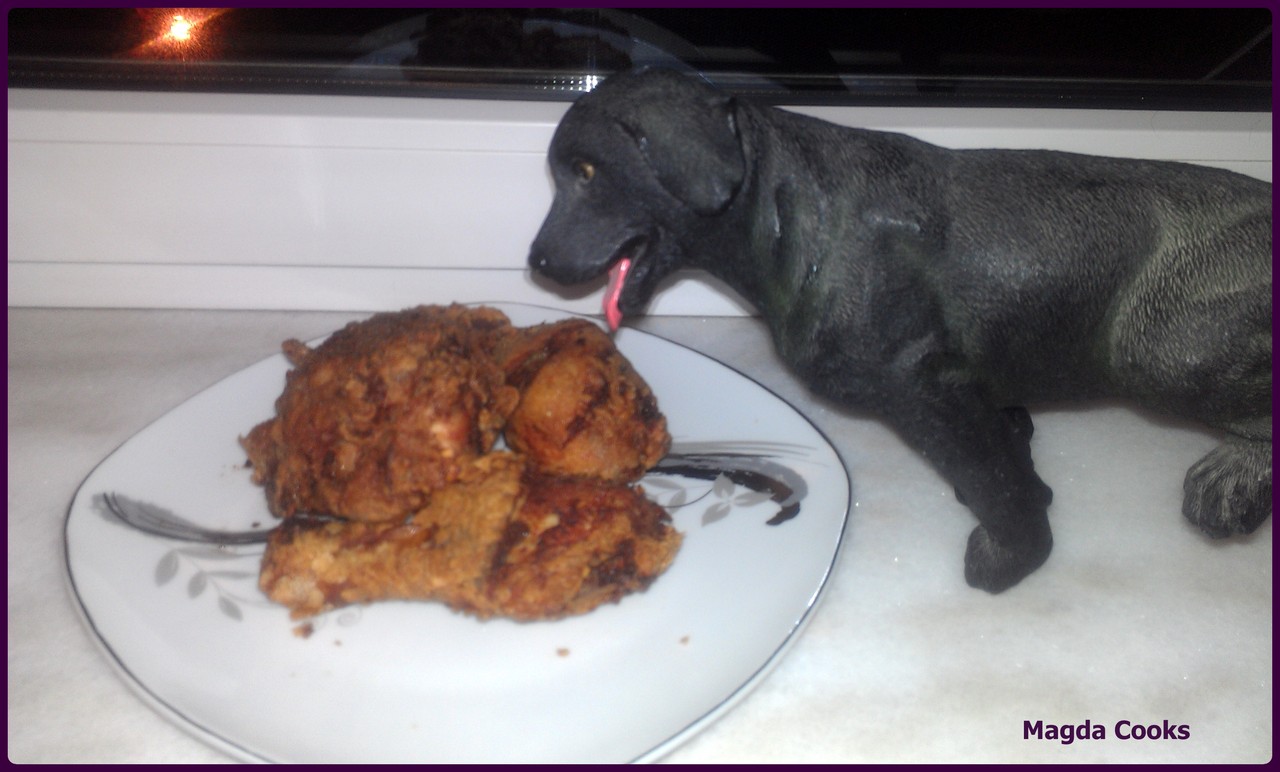 My 3rd Contribution to Magda Cooks
By: The Infamous "Cookies"
Recipe : Fried Chicken
Cookies once again —-> IS IN.
Time for an easy to prepare, make and eat meal. A staple of picnics, and other Summertime gatherings… Fried Chicken. Lets be honest though, most people HAVE THEIR OWN gimmick(s) how to do this, and really I am not trying to reinvent the wheel here. I just have a particular desire for a specific style and taste. Strangely enough, you would ask yourself, no doubt, isn't there any KFC or Popeyes or Church's Chicken in Poland? Well yes and NO. Only KFC is in the market, and quite honestly, the stuff they serve as CHICKEN, is not what I remember as chicken, KFC style. No, I am not eating this frequently, maybe 2 or 3 times a year, MAXIMUM, anyway. But the KFC style that is used in Poland, (perhaps other EU countries) is chicken that is not crispy NOR, is it crunchy, its rather "dull, boring, and wet". What? Yeah, wet, not as in greasy, but its just feels wet… no clue how else to describe it. Its just not good, and much like the french fries, that are sold in Poland, by most, they are VERY UNSATISFACTORY, and very subpar. And wet. And not crispy or crunchy. See a trend here?
I wish I had an easy coating solution like shake n bake, or some crispy coating, and just toss it into the oven and its done… like I did so in the past. But like many other CONVENIENCE style items available abroad, its NOT available here. So using this negative motivation, I decided to try to somehow recreate the style and taste I like. This recipe variation presented today reflects the 3rd effort. I think its as close as I can get within the limitation of no oven, (update: we have an oven now, so I will try this at another date, and update, if needed, accordingly), and using ONLY dark meat chicken, (really what you thought I'd use CHICKEN BREAST?, I am literally a chicken breast myself from eating it so damn much), kind of gave me inspiration to TRY HARDER™*. So therefore, I present to you, my take on an old classic, Fried Chicken.
Please note: You can use breasts, and/or wings, additionally with or without the skin. I made a few without the skin, and the results weren't what I'd call what I'd like. More experimenting needed.

Fried Chix Cookies Style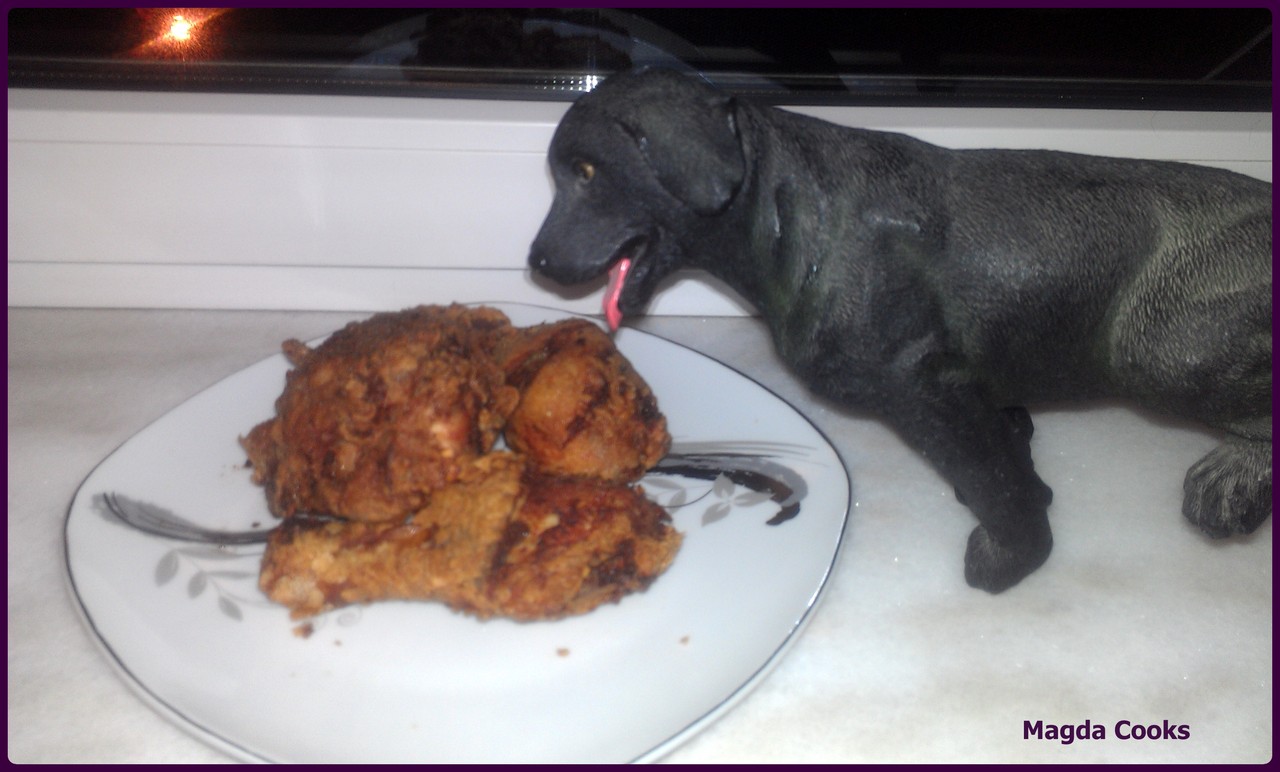 Prep Time: 60 minutes
Cook time: 15 minutes
Yield:

3
Ingredients:
Instructions:
The day before, I took the legs and thighs, and washed them, and then used a paper towel to dry them. Then I got a small bowl and made a mix of herbs and spices to NOT only put on the chicken, but into the flour mix as well. Basically, make it to your liking, but I used salt, pepper, thyme, rosemary and red hot pepper. Obviously go easy on the red hot, unless you want a 5 alarm fire ongoing! I then, peeled back the skin, on all but 2. (More on that in a second) and I seasoned it using my mixture. The mixture should be at a level you like, but no one spice or herb should overwhelm it. Try to make it a generous balance. Use only half, save the other half for the next part. I then put the skin back, and got a cover plastic box. I then poured half of the buttermilk into the container, and placed the chicken in, and then poured the other half, carefully over top. I then covered the box, and tossed it into the fridge. You can let it sit for a minimum of 6 hours OR up to 24 hours (like I did), no clue if it make it more tender, but I think it did as the previous ones I did in 6 or 8 hours, and it DID taste different.
Next day, before taking it out of the fridge, prepare your coating mix. Sift the flour. Place it onto a plate (amount will vary, based on chicken size, etc). Then toss into the flour or (other) coating mix and use a fork to mix it TOGETHER WELL important… then get the chicken.
While you are preparing the chicken get your favorite frying pan or pot, and put in enough OIL to COVER the chicken pieces entirely. Make sure the oil is hot before you put the chicken in. Coat the chicken in the flour mix, if you want, let it stand (if you do that, heat the oil, say 15 minutes later) and then put the chicken into the hot oil. Be careful with splashes and burning. Do not overload the pot or pan. I do 3 at a time. Get a timer device to measure cooking time. I did 10 minutes on "each side" for thighs and legs. I'd think wings would be 7 each and breasts, 12 minutes each (again depends on the thickness of the meat).
The ones with the skin less, I cooked slightly shorter, those being thighs, which I let sit 30 minutes before placing it into the oil. And I cooked it 15 minute total, 7:30 for each side. Its done when its brown and crispy looking.
Drain on a draining rack and use paper towels underneath. Eat up… be warned the pieces will remain hot for about 10 minutes after removal. So if you can wait to eat.
P.S. Magdas Opinion: Well, since KFC sux in here this is the best fried chicken east of Mississippi 0_o (like I would know 0_o)