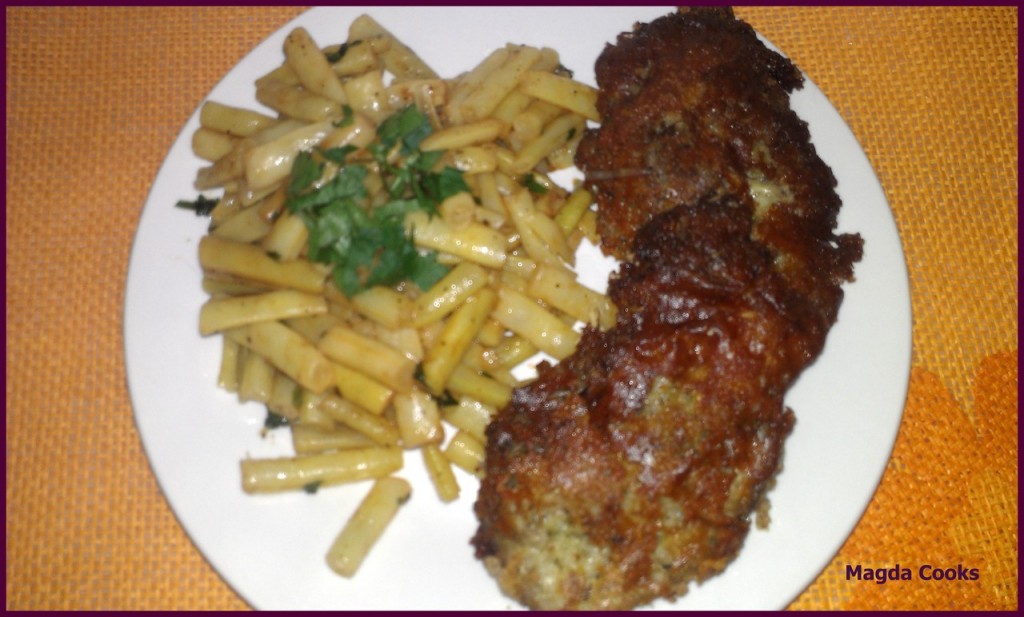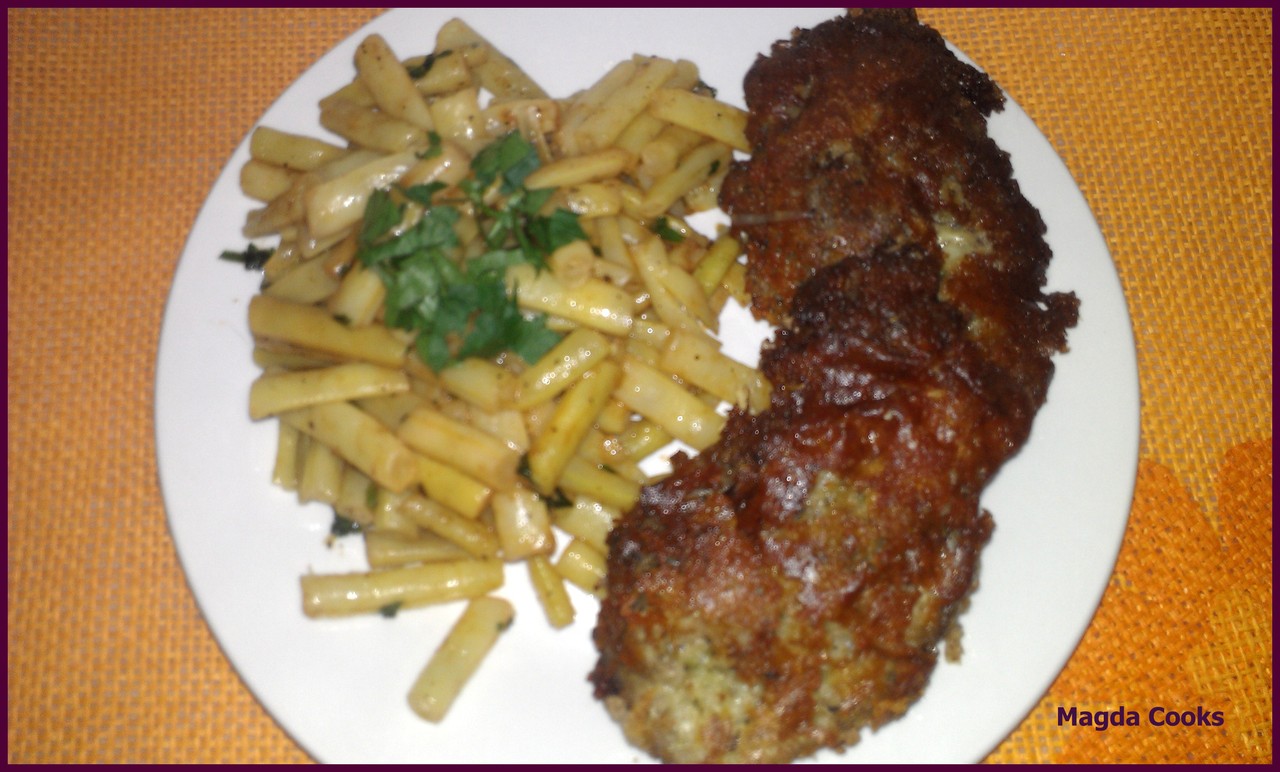 A long time ago, before I was even thinking to start blogging Cookies was making me to coat every possible meat or not (see: soy cutlets) in oatmeal bran. Believe me, after some time it's getting old. Though not to Mr Cookies 0_o. I think I could coat anything in the oatmeal bran and he would munch on it happily… if you know what I mean 0_o. So, I couldn't stand oatmeal bran coating after the years and I was desperately looking for a solution. Then some small article about the 10 easiest dinners or cheapest or whatever popped up on the front page of onet.pl. There was plenty of junk (as usual) but this one recipe caught my attention. I was quite sure that Cookies would kiss my candy ass for preparing it for him. And IT WASN'T "TAKE THE CHIX OUT, BABES!" So at the first possibility I ran to the store and bought pork loin and cheddar cheese – no, not the yard store Cookies! (I believe soon I won't be allowed into the yard store, like I'm not allowed into Delikatesy w Marsie 0_o). So there it goes CHEDDAR COATED PORK CUTLETS (yes, I know it's chops, but the word cutlets annoys Cookies, so it stays that way :P).

Cheddar Coated Pork CUTLETS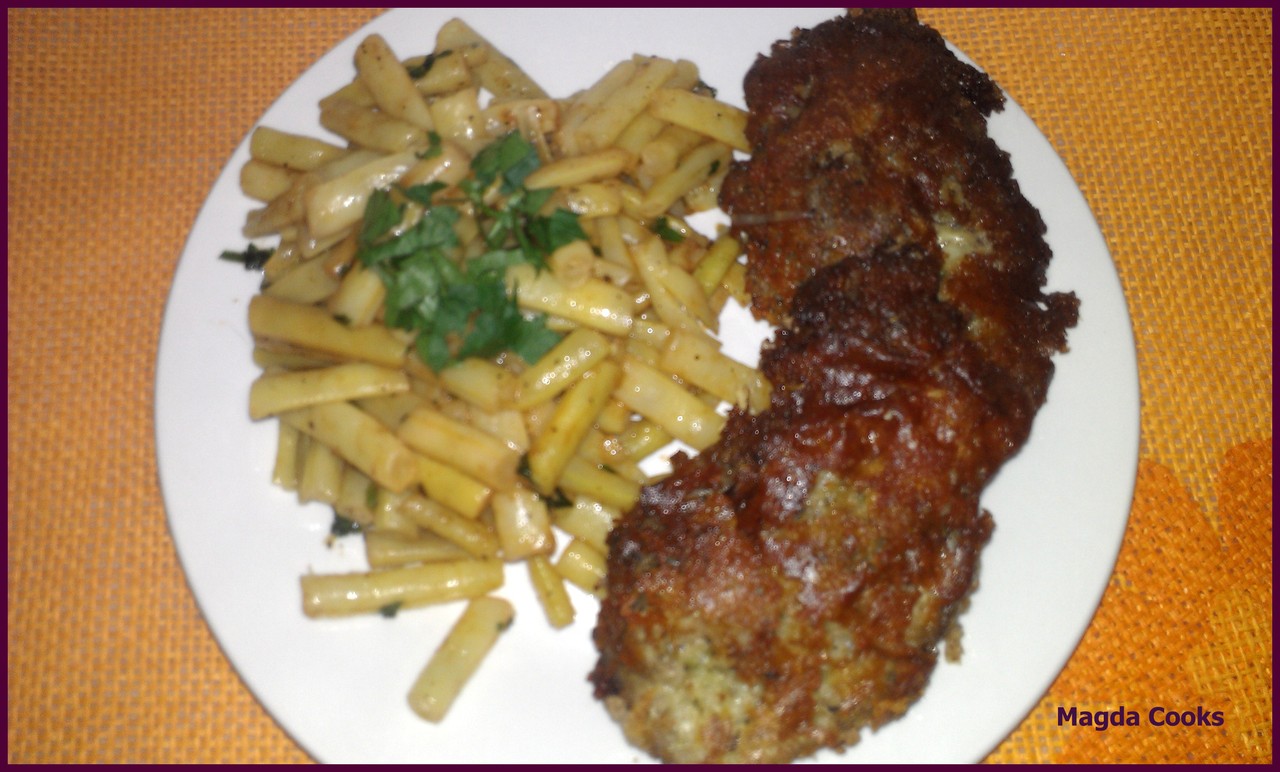 Prep Time: 30 minutes
Cook time: 10 minutes
Yield:

2
Ingredients:
Instructions:
Beat the crap out of CUTLETS, sprinkle with salt and pepper. Though be very careful with salt, because cheese is having flavour on it's own. Set aside.
Shred cheese on the biggest edges and mix with bread crumbs. Whip the egg on the plate.
Bathe CUTLETS in egg and then stick into cheddar/bread crumbs mix. Make sure you coat it good. Cheese may fall off, so don't worry and squish it together with your hand 0_o.
Fry it on very hot oil until cheese is browned to your liking. Meat is unexpectedly juicy coated that way.
Serving? With anything you like. Since it's not diet meal, try to at least get carbs out of the picture. I served it with beans and Mullen Household Salad™.
Until next time take care of yourself and each other 0_o
P.S. Cookies thoughts: "I do not like the word CUTLETS for every single piece of meat, its not proper… chops are better thank you. And yes stay out of BOTH PLACES please, your debit card is worn out… like I am of chicken. And this is one of my FAV-O-RIGHT meals… minus the Mullen Household Salad™ which is now like Chicken… to… me… (a take on the "you're dead to me" line, if you didn't get it… which I am quite sure you didn't, thus the reason I had to explain it.)