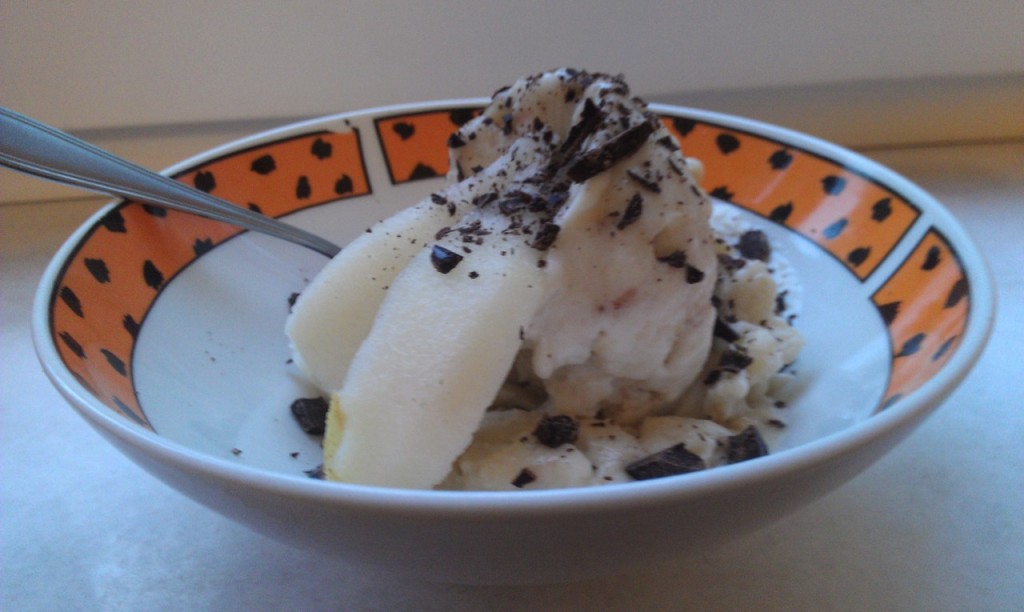 Sweets, Sweets, GIMME MORE SWEETS!!
What do you think a married couple should eat on their 6th anniversary day? Well, since we never do stuff as it suppose to be 0_o we ordered awesome, 57cm (22.5") PIZZA!!! Damn it was humongous! We found this local restaurant from a flyer that was dropped in the mail box. We ordered the awesome "4 Seasons Pizza" – it was very good, the best part was with Polish mountain cheese called Oscypek with cranberry preserves on top. I managed to eat only 3 pieces – cos I love pizza 😉 Though I didn't want the fourth part, and why you may ask? – Well, it had PEAS on top, can you believe that? Freaking PEAS!!! After all those carbs I decided I need more indulgence and went to the kitchen to make Banana Ice Cream. It's so easy to make, and yet so tasty 0_o.

Banana Ice Cream:
You will need 5-6 bananas, any size is good – they have to be nicely matured, even with black spots. Cut them into pieces and put into the freezer for couple hours (if you don't have a food processor, cube it very small… I had to use potato masher and other parts of the mixer, cos my giraffe didn't want to cooperate!) All in all, I managed to pulp the bananas and when I tried it first time I was in shock. Never expected bananas being so smooth and gooey! Imagine, that you don't need even 1g of sugar, yet the ice cream is very sweet. I served it with half a pear cut in quarters and dark chocolate shavings. Cookie was in awe when I put it in front of him 0_o
Some can say no sugar no pleasure, but believe me it was awesome 😉 Addtionally the streak of having bad meals on our anniversary ended at 3 this time, thankfully.
Until the next time, take care of yourself and each other 0_o
P.S. Restaurant is Biesiadowo, and for the ice cream I got inspired by The Kitchn n