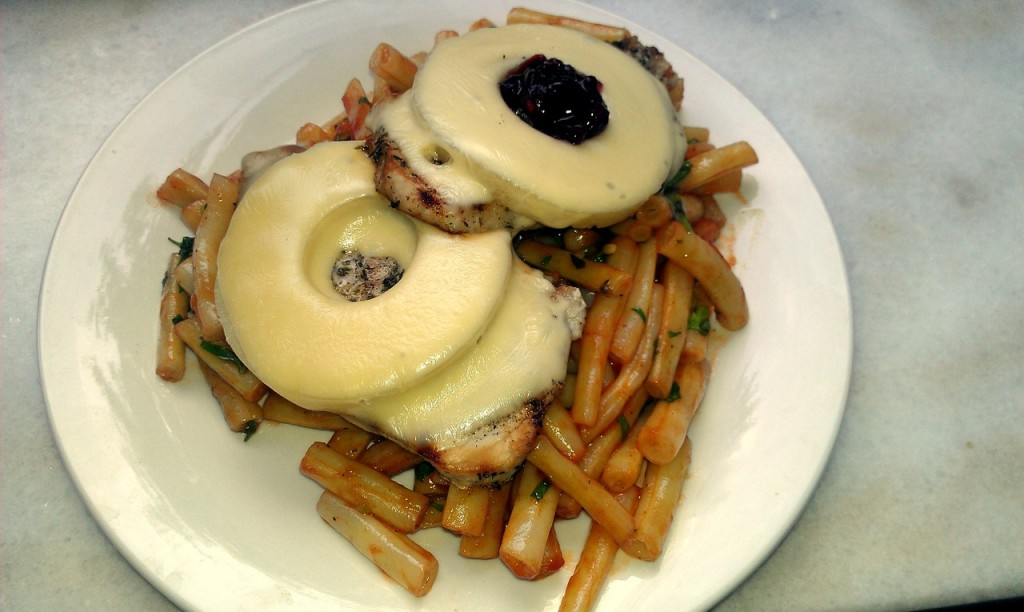 Royal Cutlets on Yellow Wax Beans
Since I started blogging I wanted to cook this one meal. It's extremely easy, yet very stunning and elegant. I think I ate it the first time at a dinner that was served by my Godmothers mother-in-law, I think, cos I recall I was about 10yrs old? I thought at that time that the pineapple on the meat was very exotic. You can serve royal cutlets as a simple dinner for two or just impress your mother-in-law with this delicious meal. The beauty of this meal lies in the choices you can take, it can be served with any meat you please – maybe except beef 0_o. But feel free to make it with chicken breasts, turkey breasts or nice pork loin – which I used this time.
Usually I serve it with creamy mashed potatoes and a house salad with dressing of my (and of course, your) choice, however this time I got tempted by fresh yellow wax beans (of course in the yard store) and I decided to serve my royals on the bed of beans made the way Cookies showed me. Again simple yet palatable 0_o (what a word 0_o – I love this new synonyms dictionary 🙂 ).
Ingredients:
1 cm thick pork loin chops (as many as you need)
canned sliced pineapple (as many as chops)
sliced cheese (as many as chops and pineapples)
salt and pepper
thyme
900 dag yellow beans
butter
salt, pepper
fructose (or sugar of your choice)
good ketchup
parsley
Preparations:
Use your husband/boyfriend to clean beans, remove ends and cut it into smaller pieces, lets say each one in three. Put it into the skillet, pour water and add, a spoon of butter, salt and pepper. Boil until soft (not mushy tough).
While the beans are boiling, beat cutlets to soften the meat, spice with salt, pepper and thyme.
Rub some oil on the cutlets, and put on a grilling pan. Cutlets can be also made with coating of your choice. When your Royals are ready on one side turn it to the other, place slice of pineapple and slice of cheese. Keep grilling as long as meat needs done. If the cheese doesn't melt cover the pan for a minute or two.
When beans are done drain water, add a little more butter, parsley and ketchup (enough to coat the beans). Stir gently – you don't want mashed beans 0_o
Create bedding of beans on the plate and add cutlets. As you can see on the picture, to one hole I added some cranberry preservative, it's not necessary but I think looks nice, and I like cranberry 🙂
Until next time, take care of yourself and each other.
P.S. No P.S. this time, cos Cookies likes this meal very much so no need to rate it as he said 0_o