"I Don't Want To Cook" Syndrome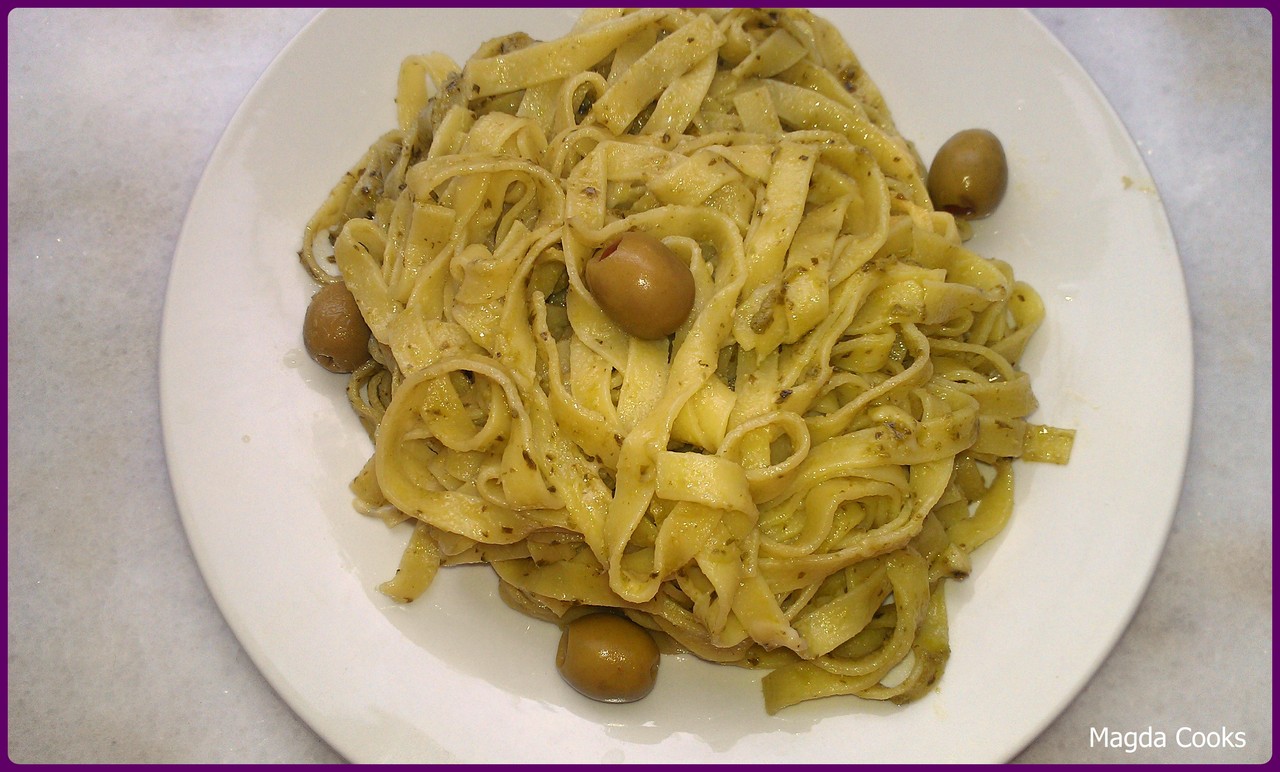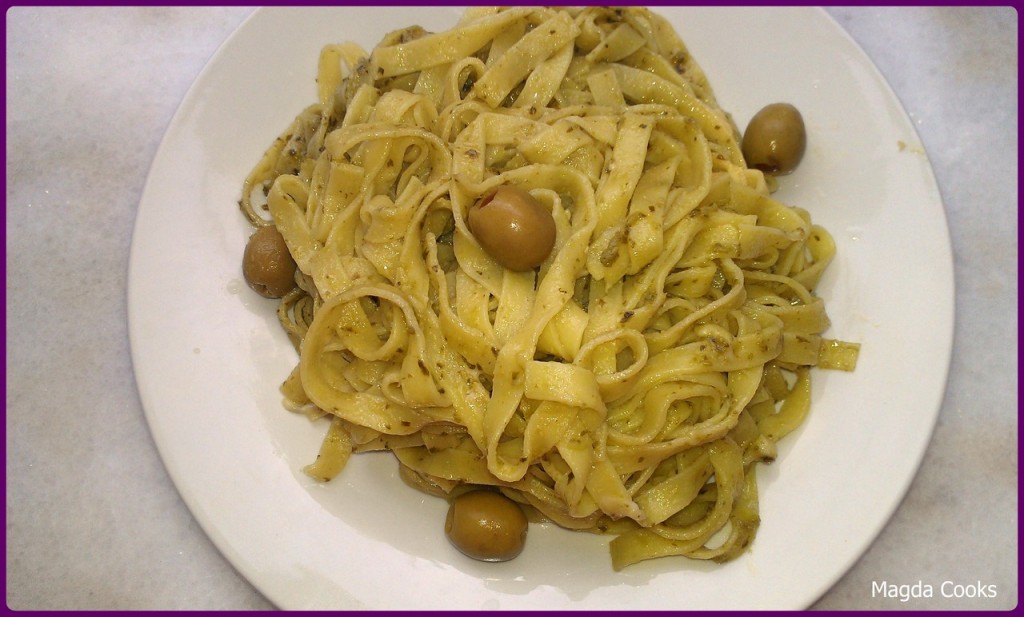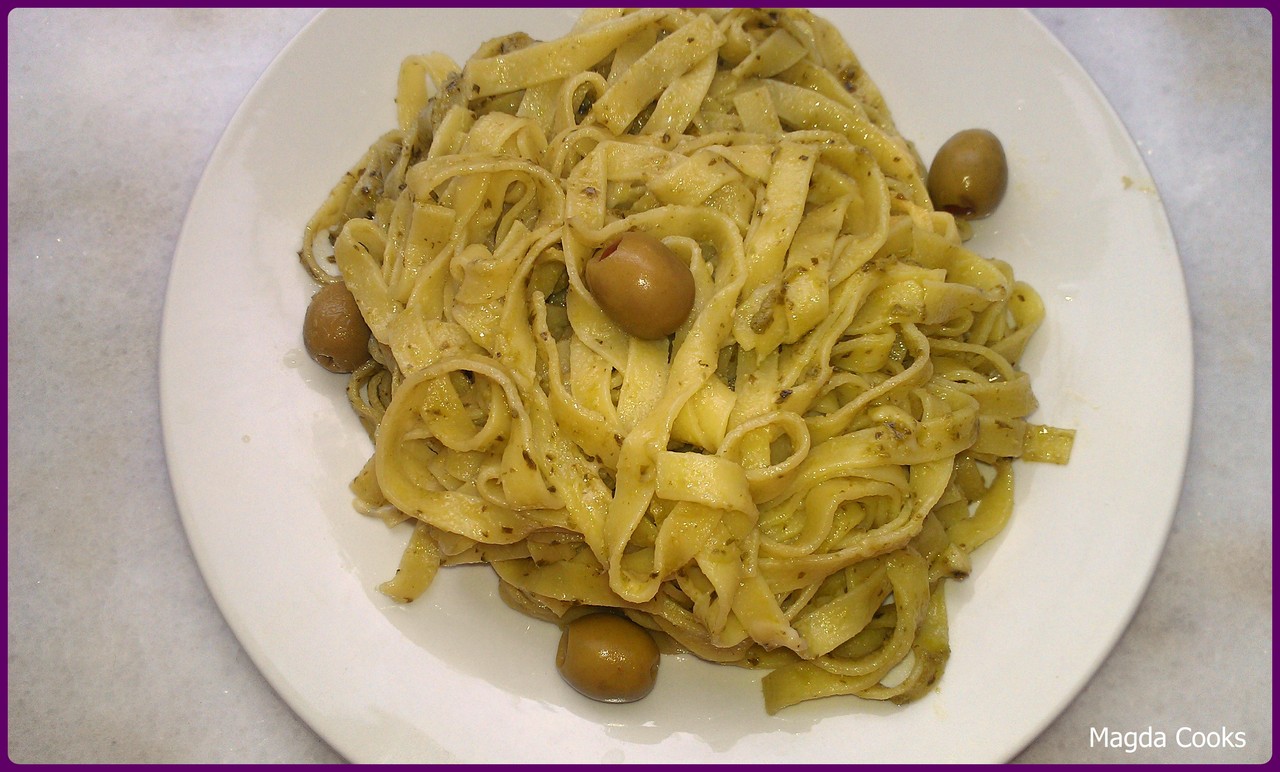 "I don't want to cook" Syndrome
I believe everybody from time to time feels that I DON'T WANT TO COOK Syndrome. It attacks you at least couple times a month if not more often. The usual solution is to order something or go to the restaurant. But as tasty that can be it usually isn't very wallet friendly. I just suffered IDWTC Syndrome this week. After my Monday fiasco with a blueberry tart I just didn't feel motivated to make even a small effort. On Tuesday Cookies had to eat some canned peas to stay afloat cos I refused to move even my pinky in the kitchen. But since a hungry Cookies equals an angry Cookies, on Wednesday I prepared I think the easiest meal on the planet, even different than a peanut butter and jelly sandwich. It took 10 minutes altogether. It was Pesto Pasta. My local super/hiper market carries fresh pre-packed pasta. I got tagliatelle, cooking time 3-4 min ;-). Also my fridge always contains either green or red pesto or like this time both. Well, you can make pesto yourself but then it's not an IDWTC Syndrome friendly meal 0_o is it then?
I just boiled the pasta, tossed couple spoons of green pesto – stirred good and served. I wish real parmigiano reggiano wouldn't cost here like it would be made with 99 carat gold and freaking diamonds… it would be very nice addition to the meal. On mine plate I tossed couple stuffed olives.
Only on mine, cos Cookies hates olives. Also capers, some molded blue cheese and some other goodies I wish I could use more often… i.e. goat cheese, which is humongous NO NO in Mullen Household 0_o. I'm lucky he eats feta 0_o. I'm dying to prepare some gorgonzola/pear salad but I believe it won't flow with Cookies taste buds… or brain buds… 0_o
Some other IDWTC Syndrome meals I prepare with fresh ravioli from the same source as tagliatelle, they provide 3 flavours: wild mushrooms, prosciutto ham and the last one is spinach with ricotta cheese. It needs only boiling for 4-5min, tossing some butter and the lovely parsley.
I bet that you can find in your local store products that are easy to prepare, tasty and with a little more effort no too overly processed.
The last solution – chosen by me usually for Thursdays and Fridays – is using Cookies hands in the kitchen 🙂 He is an excellent cook actually that's specialty is pasta and wraps. But this week he made awesome, creamy, full of surprises potato soup. That really helped my IDWTC Syndrome and tomorrow I'm going to prepare something more complex than tasty pasta pesto.
Until next time, take care of yourself and each other.
P.S. Actually the meal was also rather good for Cookies I feared he would of complained like usual but he didn't. Miracles can REALLY happen… Always believe.
---