Hot potato caprese…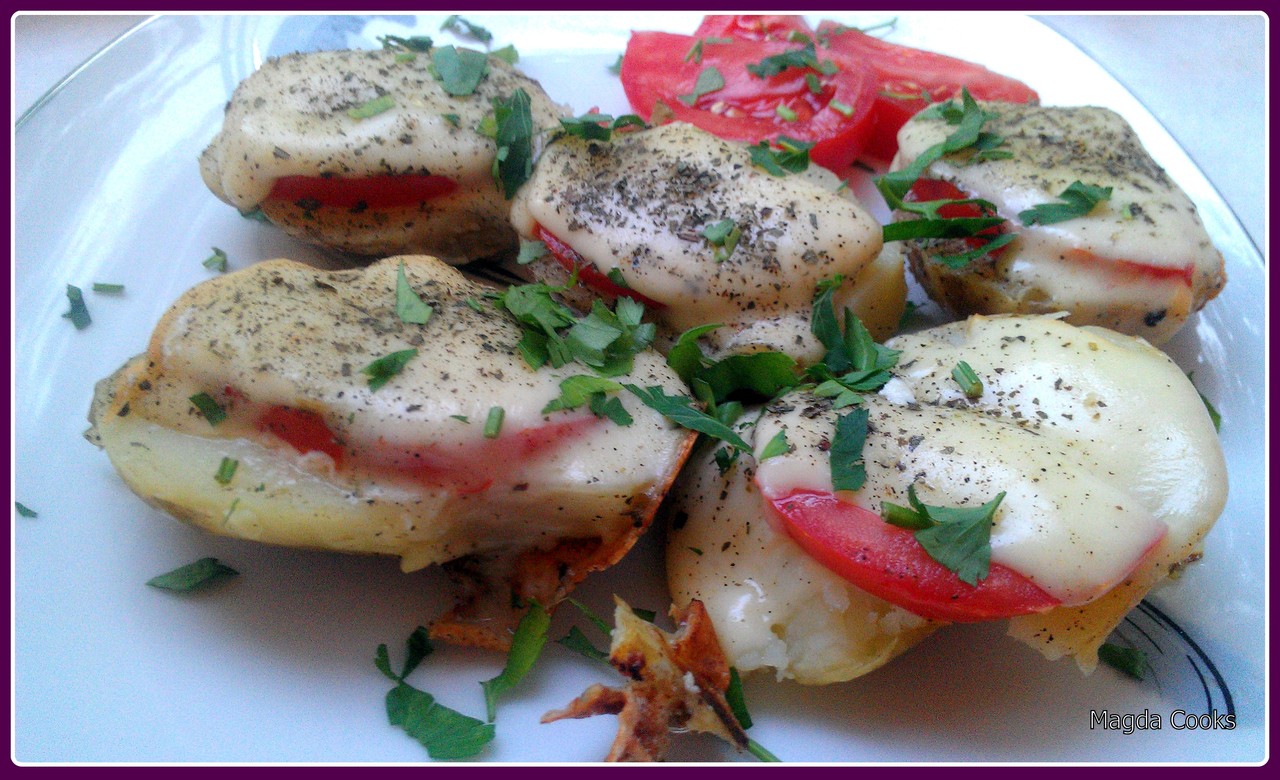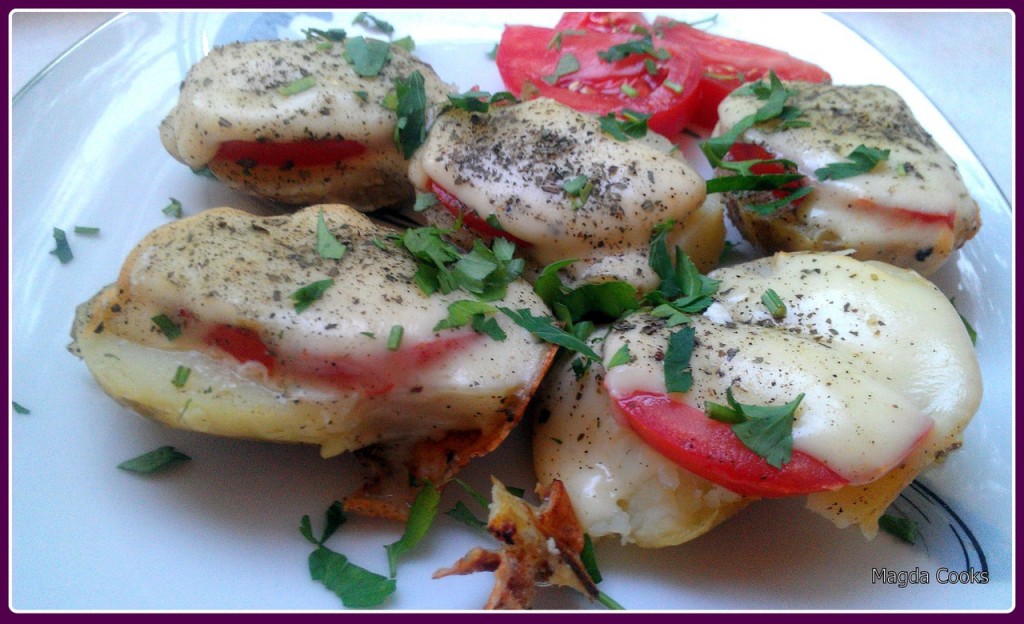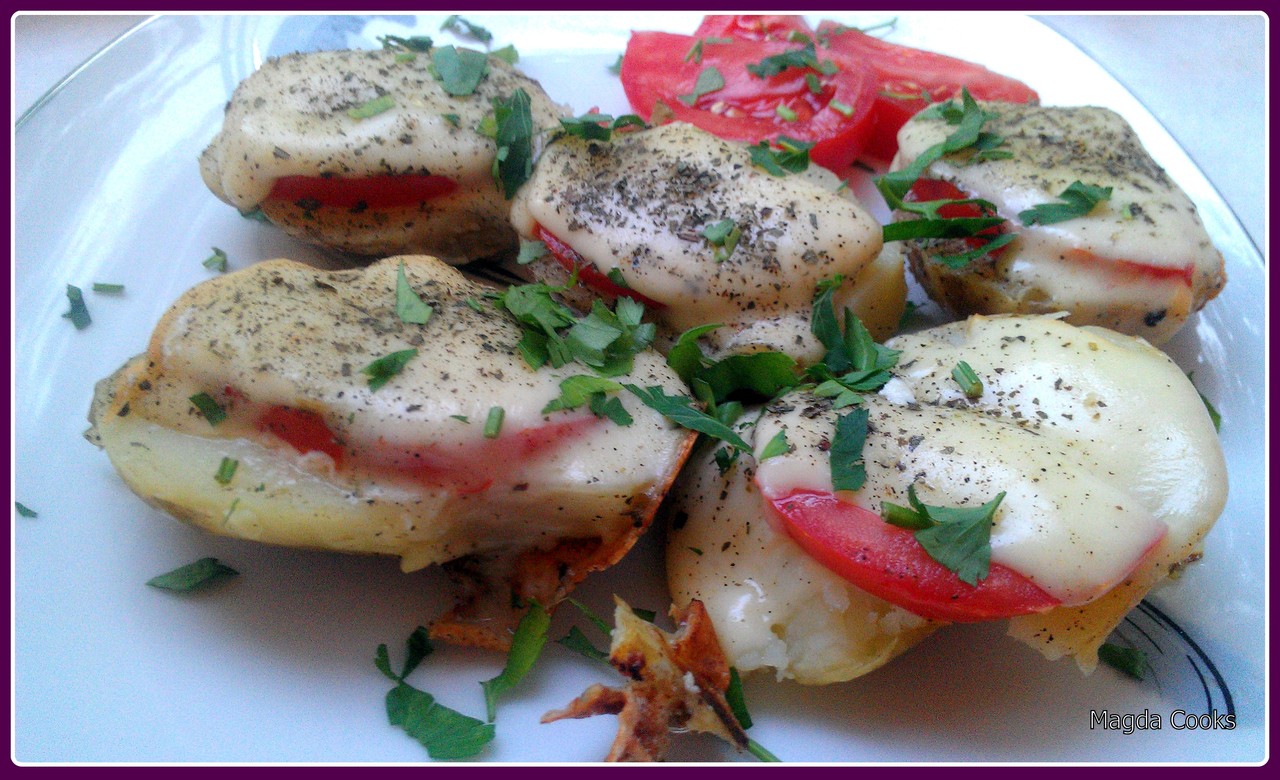 Last couple days I didn't cook much. All because of this damn heat. Everyday over 90F (32C) and almost 100% humidity, you already feel like flowing in the freaking soup much less cooking one… Yesterday we simply ate fries that Cookies masterfully made. Always crispy outside and soft inside – perfect.
Now when I write it I just noticed that I made another potato meal today. Just wanted to rest from meat and since I saw this recipe somewhere I decided to make my own version of hot caprese salad with potatoes or better ON potatoes. As usual easy and not involving 0_o
Ingredients for two (always for two)
5 medium new potatoes
1 ball of smoked mozzarella (can also be regular one)
1 tomato
if you grow it 😉 use fresh basil, I used dried one
tiny bit of pepper fromage cheese (but any spiced cream cheese will do)
drip of oil
salt, pepper
and last but not least the IMMORTAL PARSLEY!! LOL
Preparations:
Boil potatoes until soft, steam out and set aside. Cut mozzarella into slices, tomato also into slices, or half slices if the potatoes aren't too big. Cut each potato horizontally, sprinkle with salt. Smear a little of fromage cheese on top, put a slice of tomato and cover with slice of mozzarella. Sprinkle with black pepper and basil. Heat grill pan (or outside grill), smear bottoms of the potatoes with oil, or just simply deep it fast in tiny bit of oil 😉 and put halves of potatoes on the pan and grill under cover until nicely marked and the mozzarella is melted. Toss some parsley on top and serve with anything else you please 😉 I didn't feel like making anything else…
Enjoy nice evening with your co-sleeper 😉
Until next time, take care of yourself and each other.
P.S. Cookies liked it a lot, thought didn't feel like rating… he didn't sleep last night cos Kakuniu was scared of the storm. Poor doggieguys!!!
---