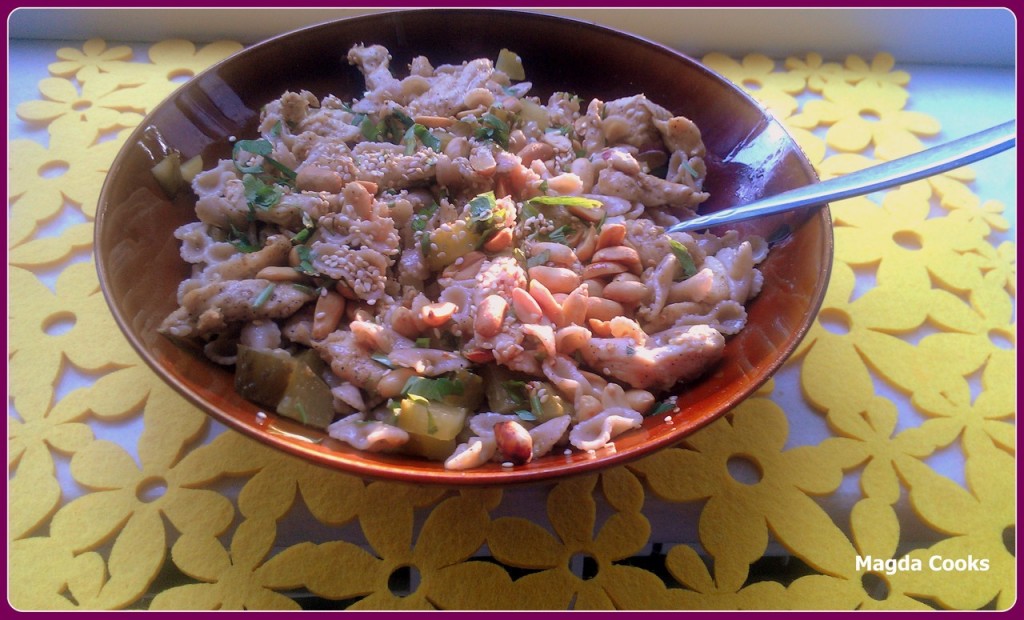 Years of searching for the flavour…
Probably sounds serious… but it's just a search for the sesame dressing I ate in a Thai Salad that was served in a no longer existing (at least in) Warsaw restaurant called "Cafe Brama."
I think until 2010 there was one in NYC's East Village. As for ingredients, it wasn't nothing special. Some iceberg lettuce, tomatoes, cucumbers, grilled chicken and this absolutely delicious sesame oil dressing. I still try to find this flavour. I was hoping this would be it, with this recipe for Sesame Pasta Chicken Salad, but it just wasn't. The salad however was very tasty but it wasn't the dressing that I remembered. Though this recipe is worth preparing. It's filling and made with wholegrain pasta therefore it's also diet ;-).


Ingredients:

2 tsp sesame seeds
250 g bow tie pasta (I had these cute little bow ties that Lubella makes)
2 tbsp vegetable oil
1 tbsp light soy sauce
1 tbsp rice vinegar
1 tsp sesame oil
1 tsp fructose (or white sugar)
1 cm of ginger
black pepper
double grilled or baked chicken breast
1 white pepper
handful chopped fresh cilantro or PARSLEY 🙂
few green onions
Optional: handful of roasted peanuts
Preparations:
Boil pasta along the instruction. Cut chicken into cubes or shred (though I don't know how, the meat is soft, right? 0_o). Toast sesame seeds and peanuts on the dry pan (separate). In a jar combine vegetable oil, soy sauce, vinegar, sesame oil, sugar, sesame seeds, ginger, and pepper. Shake well.
Cut pepper into small pieces, onion into feather like strips add everything to the bowl with pasta and pour dressing over it 😉 On top, toss roasted peanuts and fresh cilantro or parsley.
I bet we could add some more veggies, like carrots, maybe next time 😉
Until next time, take care of yourself and each other 0_o
P.S. Cookies rated it OK!! #HEEL ugh…