Couple days ago my favourite neighbour Wojtek sent me by email one of his latest creations. Wojtek likes to cook and actually does it really good. His greek fish is spectacular and his zurek even better 😉 I know cause Marta (his wife) and himself are the most hospitable people I know. Always having something to eat 😉 a beer and good laugh with their lovely little princess Balbina :P. Baaalbinkaaaa 😀
Thanks to them Mr. Dog is getting better.

Wojteks Silesian Kluski with Mushroom Sauce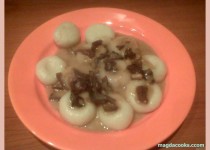 Prep Time: 45 minutes
Cook time: 45 minutes
Yield:

4
Ingredients:
Instructions:
Kluski
Peel potatoes and put into salted water, and cook them through, grind it up good, then sift the starch into a bowl, then add the potatoes and egg. Kneed good to create smooth dough. Form a roll and cut round kluski. Push your finger in the middle and make a cavity. Prepare big pot with boiling water and add kluski slowly. You could additionally salt water or add a bouillon cube and a drip of oil, so the kluski wouldn't stick. Boil for 5 minutes from the moment they jump to the top of the water.
Mushroom Sauce
Put mushrooms into warm water with a pinch of salt and leave for 30 minutes. After the mushrooms will get moist, cut the mushrooms into pieces. Keep the water. Dice onions and start frying on some ghee, add mushrooms and after 3-4 minutes pour 3 tablespoons of water. Keep frying til onion will get glassy.
In the meantime pour the leftover water into a separate skillet, then add a bouillon cube. Make sure you have 1/2l water altogether. Add allspice and bring to boil, then add the mushrooms with onions. Cover and stew on low for around 30-40 min. Just until mushrooms will be soft.
Add couple tablespoons of hot mushroom water into sour cream and stir good - this way sour cream won't change into cheese. Add cream to the mushroom liquid and stir. If its too thin add a tablespoon of flour.
Before you serve try if it's salty enough and add black pepper.
Pour this rich sauce over hot kluski and enjoy the pure bliss of a flavours.
Until next time, take care of yourself and each other 0_o
PS. While I was writing it, I just simply wanted to eat it... gonna make it on the weekend for sure!
PS1. Cookies thoughts: I saw the post he made on facebook which in turn made me ask him for the recipe… that you see here… enjoy it… like I will when Magda Cooks… it (ALSO) just right.