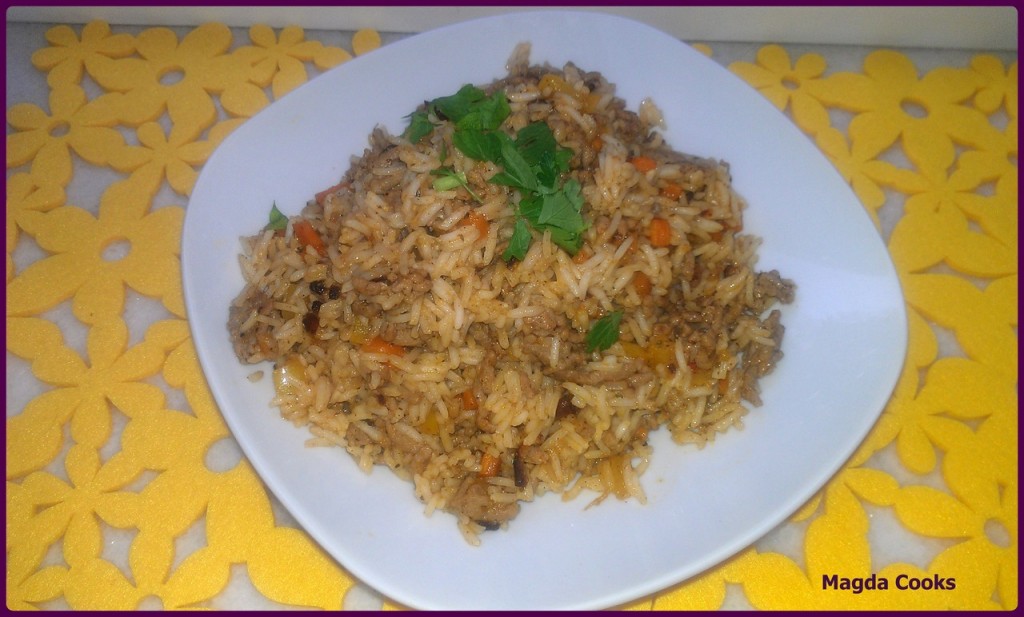 Dirty Rice
Before I met Cookies I thought that American cuisine is mostly hamburgers and fried chicken oh and apple pie 0_o. I know stereotypical, but I didn't have a chance to change that thinking. I got the chance after Cookies and I created the basic social unit 0_o. He showed me that there is billions of meals that got created by different nations living in US. I have to admit that my favourite is Cajun cuisine that comes from Louisiana. For this recipe I created Cajun seasoning on my own – cos I couldn't get it anywhere here. Even in the Kuchnie Swiata chain, that usually has everything special or weird I need. But what do I have Internet for? I asked Uncle Google and voila, there is nice recipe for Cajun spice! Even better, a couple versions of it! AWESOME!. I chose the one that I could obtain all the ingredients. It's easy to make your own mixes, so no worries.
Ingredients for Cajun seasoning:
2 tsp salt
2 tsp garlic powder
2 1/2 tsp sweet paprika
1 tsp ground black pepper
1 tsp onion powder
1 tsp cayenne pepper
1 ¼ tsp dried oregano
1 ¼ tsp dried thyme
Put all the ingredients into jar, mix good. every technique is good – stirring, shaking, rolling 0_o
Ingredients for Dirty Rice
3 bags or a cup of basmati rice or any other long grain
2 chicken bouillon cubes
500g ( 1 lb will do good too) ground pork
3 tbsp oil
1 small onion
1 yellow pepper
1 carrot
1 tbsp Cajun seasoning
Preparations:
Cook rice according to the users manual 0_o I hate when in recipes they tell you how to cook rice, when no way you can have exactly the same one, grrrr. The only difference is, add 1 chicken bouillon cube to the water. Set aside and let it cool, it can be leftover from the previous day.
Heat oil in the big skillet. Chop onion into tiny cubes. Toss it into skillet, fry like 30s then add meat. Let it brown good before you stir. When meat is browned, add finely chopped yellow pepper and carrot. If the bottom of the skillet is crusting, lower the heat down. Cook meat and veggies for another 5 minutes. After that time add a glass of bouillon cube, scrub the bottom gently with all the goodies 😉 and add 1 tbsp of Cajun seasoning. Stir good and cook on high heat for as long as to boil away most of the stock. Add rice and stir good again. Lower the heat and cook for another few minutes, until rice is hot.
Serve right away hot with a bottle of beer 0_o if you please.
Until next time, take care of yourself and each other 0_o
P.S. Cookies thoughts: Totally impressed by the effort and the end result. Tasty and GOODNESS.